When it comes to the benefits of living in a mobile or manufactured home, the money that can be saved compared to conventional housing is often near the top of the list.
So, what is one to do with all the money a buyer may have leftover after the home has been purchased? One option is to put the money in decorating or doing an extreme makeover of your new place, to make it exactly how you'd like.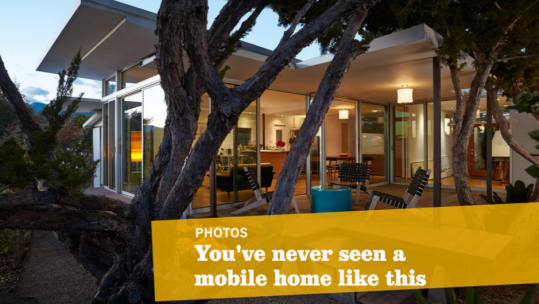 For example, Los Angeles designer Amy Shock downsized from her four-bedroom house in Beverly Hills to a 1964 double-wide mobile home in Ojai and completely transformed it, reports the Los Angeles Times' Lisa Boone.
Shock kept two windows and a door, but discarded almost everything else. Her renovations included the installation of new electrical and plumbing, new cabinets and lighting and a 500-square foot room addition.
Shock also doubled the existing deck's size and crafted an L-shaped covered sun porch. Her compact kitchen still has room for all the essentials.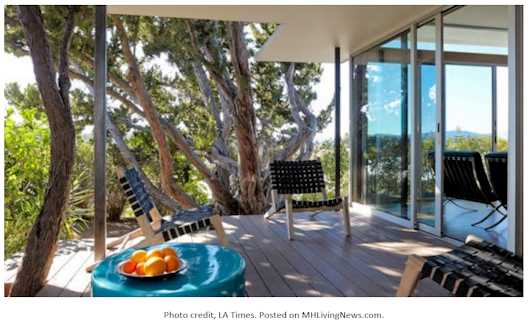 Perhaps the biggest and boldest change to her home is the addition of floor-to-ceiling glass panels in the main living area, which also happened to be her biggest expense.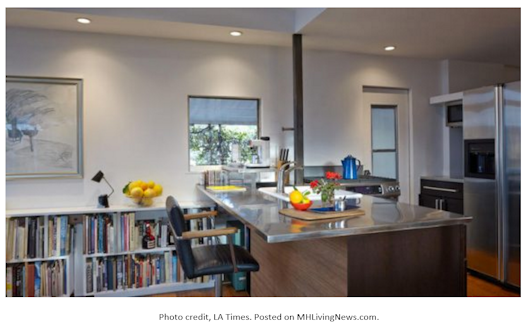 The specially-ordered UV protective solar glass Fleetwood panels cost $40,000. Shock says the price tag was worth it, as the panels help with UV and solar heat. She fabricated custom roof planes that extend past the south-facing windows for shade purposes.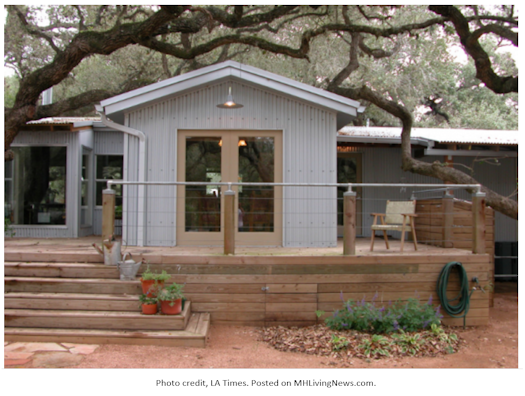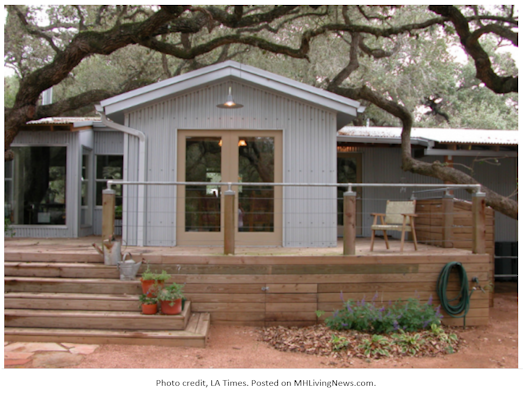 Between the home purchase and renovations, Shock spent $180,000, more than she would have liked, but the result is a home she enjoys living in.
"I have a free-and-easy lifestyle," Shock said. "I've got everything I wanted here."
While most of Shock's changes and renovations were interior, there is plenty that can be done to spruce up the outside of the mobile or manufactured home, too.
Realtor's Liz Alterman recently spoke with architects and design professionals about some of the options manufactured homeowners have for outside of the house renovations.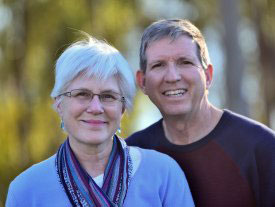 Front Porch Ideas and More's Dave Morris suggests laying a "fake" foundation. The practice of adding a foundation enclosure around a manufactured home is also known as, "skirting." By adding stone-look foundation enclosure below a manufactured home, it gives the same appearance as a traditional one.
Meanwhile, a deck and stairs can give a manufactured home a more inviting look, according to Texas-based architect Ignacio Salas-Humara. He helped a couple upgrade their weekend getaway manufactured home with a deck and stairs combo with a railing of galvanized pipe and stainless steel cable.
For elevated decks, adding lattice in a color that matches or compliments your home would be a nice touch. They're easy to cut and install, according to Morris and provide a great hiding spot for tools or other equipment.
Other outside options include stone patios, building a carport and adding shutters for a more welcoming look or a fence around your home to help define your property. ##
(Editor's Note: as regular readers and viewers on MHLivingNews know, there have been no mobile homes built in the U.S. for over 40 years. The home that Schock purchased is a true mobile home, and thus the use of that terminology here is accurate and appropriate).
(Image credits are as shown above)

Submitted by Joe Dyton to MHLivingNews.com.