"The Road to Hell is Paved with Good Intentions."
– maxim origin, Bernard of Clairvaux.
Improving manufactured home resale values is an important topic for everyone involved in the housing industry. 
We learned from the National Association of Realtors (TM) Certified Business Economist (CBE) Scholastica 'Gay' Cororaton that manufactured homes can and do rise in value.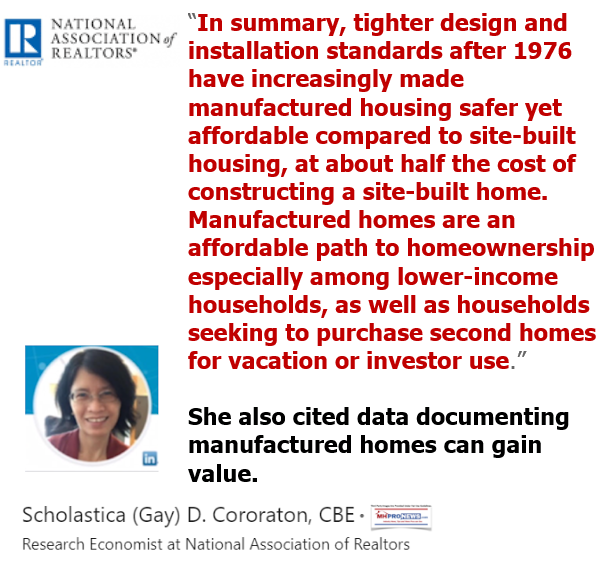 Barry Noffsinger, a regional manager with manufactured home lender, Credit Human Federal Credit Union, told MHProNews that manufactured homes go up and down in value for exactly the same reasons as conventional homes.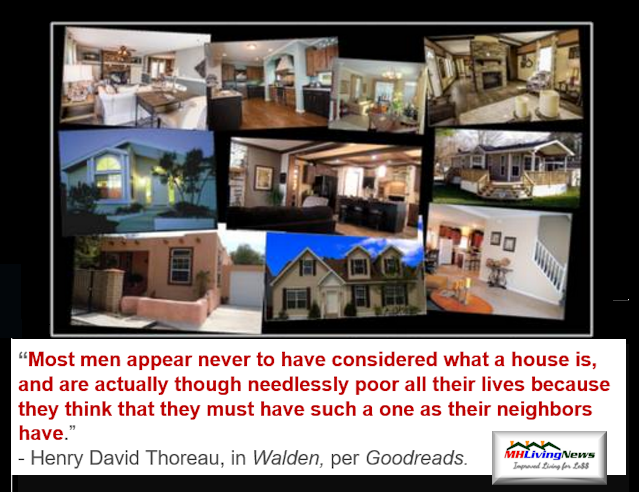 Analogies can help clarify a point. The purpose of this article is a 'how to,' intended to point-the-way to further improve the resale values for millions of owners of manufactured homes. 
So let's start with an analogy to set the table for the discussion that follows.
The normal person has no desire to cause or be in an auto or other accident. But carelessness, poor driving or other habits can cause someone with good intentions to have an accident. A car driver's error resulting in an accident can cause others to become involved in the accident too. 
There are several factors that go into housing resale values. Among them are:
•   Location,
•   Supply and demand,
•   Financing availability,
•   Local economic and job markets,
•   Condition and appeal of the home.
So supply and demand are important factors.
With that in mind, as you listen to this IMF video about blueberries, think about manufactured home and community home sites, instead of blueberries.
Rob Weymouth, Tim Sheahan, Dave Anderson, and Kevin Border are members and/or officials with various manufactured home resident groups.  These groups often protest actions that they have concerns about from specific manufactured home community operators. These activist/protest groups have identified a fairly limited number of operations that they believe harms the interests of the residents of those certain communities.
So by implication, the vast majority of communities that they don't target by name are arguably fine. 
Selecting an MH Community
All of those named above prefer resident owned communities (ROC). But as Paul Bradley, the President of ROC USA – the largest organization in the U.S. involved in converting communities from investor ownership into resident ownership has told MHProNews –  the number of conversions they can do from investor to resident ownership a year are currently limited to about 20 (+/-).  That may grow over time, but it would take decades to accomplish something that these groups are working towards. 
In the meantime, the challenges they raise concerns about go on. 
Bradley has also said on camera that he knows many fine independent community owners. His mother lives in a manufactured home in a land-lease community.
So, a little logic tells us that a savvy shopper should check out the reputation of any manufactured home community (MHC) they may be considering.  Consider too private property placement options.  According to NAR research, about 2 out of 3 manufactured home owners live on privately owned land, so about 1 out of 3 live in a manufactured home land-lease community.
Often, by talking to a handful of residents in an MHC at random – that kind of sampling of residents should be done from different places within the same MH community – will tell you what you need to know. It's much like how much someone can learn about an apartment complex by talking to residents, or by engaging a few residents in conventional housing neighborhood. 
It should also be noted that residents that protest specific communities may only be a minority in that MH community. News media tends to love sensational and controversial issues. So the news media arguably don't do as many stories about happy residents, which third-party surveys reveals is the majority of mobile and manufactured home owners.  That survey, or the one by Foremost, demonstrate that most manufactured home owners are happy and enjoy their lifestyle.
The reason more millionaires are turning to buying a manufactured home – not just the working or middle class – is because manufactured housing is a smart choice.

Right or wrong, resident groups like NMHOA or MHAction – for a variety of their own reasons – tend to hold positions that favor the Democratic Party, they say so themselves. Some are even pro-socialist in their perspective. Note editorially we believe that affordable quality housing is a nonpartisan issue, and the publishers of MHLivingNews are pragmatic political independents.  
Rob Weymouth is a resident member of a group that specifically wrote letters-to-the-editor recently, urging people in his state of Delaware "to vote Democratic." His state is dominated by Democrats. Democrats hold all three branches of elected state government in Delaware. Ironically, Weymouth in the same letter encouraging votes for Democrats, said that the law that Democrats had already passed a few years ago had proved to be "useless."  
That disconnect begs a question. Logically, why would Weymouth and others go back to the same political group that gave you a useless law?
The problem that Weymouth or others identify can logically never be solved by government intervention through "rent control." That's been proven time and again.
Remember, Weymouth himself said that the prior "Rent Justification Act" passed in his state by Democrats was "useless."
Real World Solutions, Per Housing Experts 
What is the solution to rising home prices, rising rents, or rising site fees in manufactured home communities?  According to the principles of the chief economist at the NAR, Lawrence Yun, Ph.D, it's is more construction.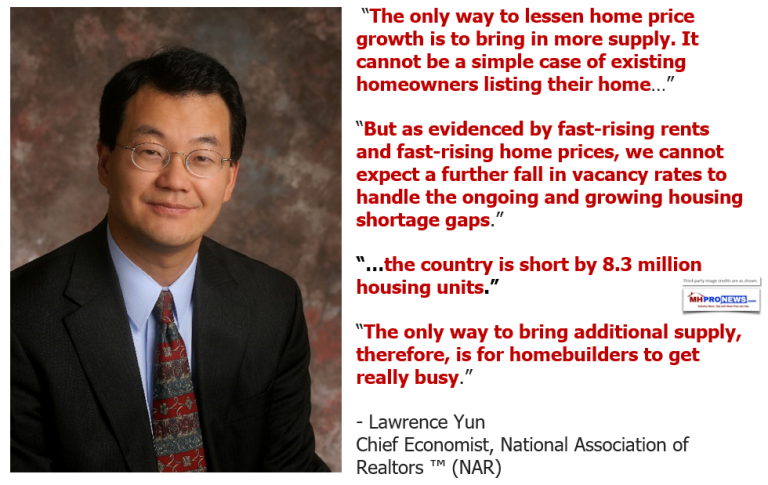 Rephrased and applied to manufactured homes, more supply – increasing construction – is the way to lower or restrain the rising costs of housing. 
Rent control may be well intended, but it fails to work. The video below gives some thirdparty, expert context to the Rent Control issue.
Weymouth ironically admitted as much, thought it purportedly was not his intention.
ROC USA President Bradley has told MHProNews that he too thinks that rent control isn't the solution.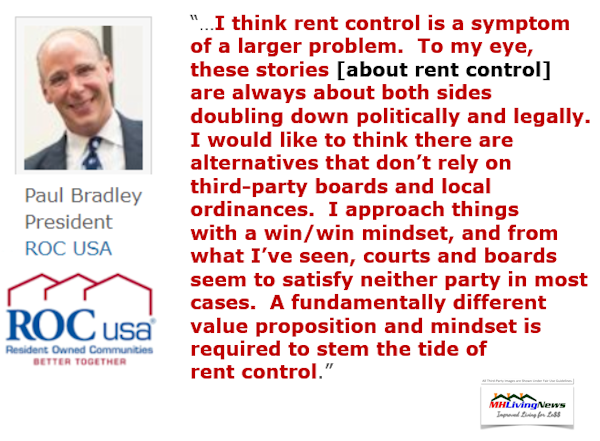 The reasons are simple to understand, once the law of supply and demand is considered. 
Rent control tends to lead to a fewer big companies buying out smaller or independently owned operations. So over time, with rent control, it's the bigger companies that end up owning more properties. Ironically, it's those larger companies that are often the target of NMHOA, MHAction, or other state/local activist group protests.
Do you see the pattern?
Let's give them the benefit of the doubt for this discussion. Wittingly or not – NMHOA, MHAction and those like Rob Weymouth that follow them – are fueling the very problems they say they want to cure.  Rent control can't change the law of supply and demand.  Marty Lavin, JD, an attorney who once owned communities, made a point that applies here.

The cure for rising costs isn't rent control, rather, it is more construction. More manufactured home owners and buyers should do the following: 
•   Get better informed about the issues.  Facts, evidence, and reason-based sources like MHLivingNews – or for professionals, MHProNews – are designed precisely for news, informational, educational, and inspirational purposes.
•   Use the right terminology. If a home is built on a frame prior to June 15, 1976, odds are good it's a true 'mobile home.' Home built since June 15, 1976 to the federal standards administered by HUD are manufactured homes. Calling a mobile or manufactured home a "trailer" – the "t-word" is almost always wrong. There's reasons to believe that calling a manufactured home the t-word reduces its value, because people would rather buy a manufactured home than a "trailer." It's simple supply and demand.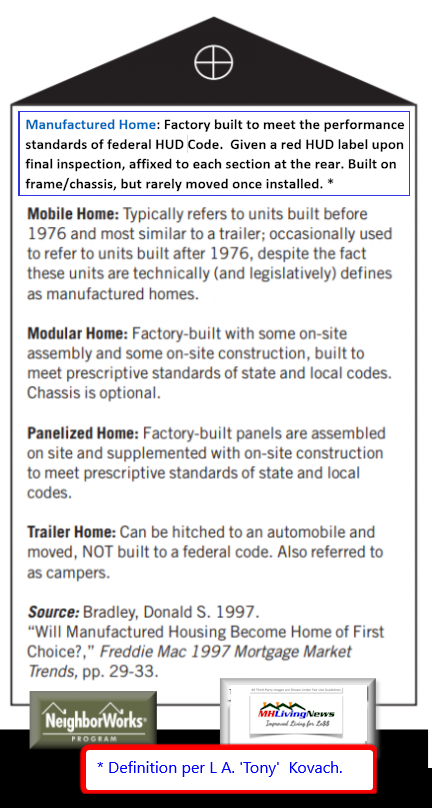 •   Share good information. Email or post on social media links to articles that you find here. The more people that understand the facts vs flawed opinions, the better off more manufactured home owners will tend to be.
•   All of the above is essentially free to readers. It's only the discipline of investing a little time. That time and sharing is rewarded by increasing the understanding, perception and thus the value of your manufactured home.
•   If you are in a resident group, make sure you raise these issues, and share links to articles like this one. Promote for elected positions those support free enterprise solutions, not failed big government policies that as Weymouth himself said have been "useless."
•   Keep in mind that our publisher has offered for years to discuss or debate these issues in a moderated forum with resident group leaders. Each time, they've failed to accept. Why not, if they think they are correct?
•   If you are in a resident group that is unreasonable, consider forming a new group, one that promotes the good news about manufactured homes. Because logically, what these groups are doing harms many homeowners by promoting so-called solutions that as Weymouth said, prove to be "useless."
•   If you keep doing the same things, the same way, expect the same result. It will take new thinking and action to get a better result.
Solutions  
The solution to affordable housing is found in part by applying laws already on the books. The Manufactured Housing Improvement Act of 2000 (MHIA) called for "enhanced preemption" for manufactured homes built to the HUD Code.
Two Great Laws Already on the Books NOW,  Can Unlock Billion$ Annually for Manufactured Housing Industry Businesse$, Investor$
If investors see that demand exists for building manufactured home communities, and that they won't be over-regulated, more construction could occur.  Some new or expansion communities are already being built in various parts of the U.S.
Again, the answer to rising costs is more supply is needed – especially in places where prices are rising the fastest – is to increase competition.  New construction and more options are how costs are naturally kept in check. 
Ideally, affordable housing is a non-partisan issue.  But it has been turned into a partisan topic, which makes that a political reality that must be dealt with.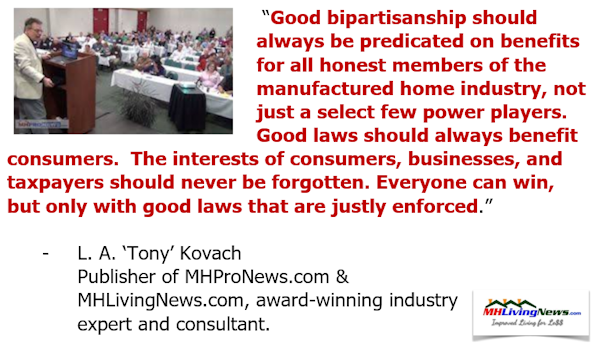 The publisher here has owned several manufactured homes, and made a profit on the sale of each one that was in a good manufactured home community. The publisher always researched the community he wanted to move into with a manufactured home purchased or moved there. 
Ideally, manufactured home owners and businesses should work together to educate others about the realities vs the mistaken notions about modern manufactured home living. That will cause home values to increase, and will create the demand for the development of more home sites.
Mutual victories – win-win-win action and thinking – are how an already good option of manufactured home living can be made even better.  See related reports, linked below. ##    (Lifestyle news, fact-checks, commentary, and analysis.)
Submitted by Soheyla Kovach, co-founder of MHLivingNews. Learn more in this mainstream media report, linked here.
Third party images are provided under fair use guidelines.
Related Reports:
Realtor University ® "The Market for Manufactured Homes," Research by Scholastica Cororaton, Certified Business Economist, Highlights
Researchers Shake Up American Dream? Rent vs. Buy, Ken Johnson, Florida Atlantic University, Exclusive to ManufacturedHomeLivingNews
FEAR, a Solution to the Affordable Housing Crisis, and the Manufactured Home Dilemma