Wittingly or not, most people thirst for the truth.  We may not want to hear that our hair isn't quite right, that we age, or that we aren't as fast on the tennis court as we once were.  But when one deals with more serious topics – like housing – what most want is the intelligible truth.
People like you are here in part searching for answers to legitimate questions.
Manufactured Home Living News (MHLivingNews) recently posted decades of third-party research, linked here. We are not afraid of the facts. Quite the opposite, we believe that the truth properly told will create opportunities for millions of Americans. The truth well told, told often enough to cut through the noise – and the truth acted upon – can lift millions of Americans up to get the respect and affordable housing opportunities that they deserve.
That said, as a pro-consumer/pro-manufactured home industry publisher – as odd as it may sound – there's evidence that some powerful players in manufactured and modular housing want to obscure the truth.  When there is bad behavior in the manufactured home industry, those guilty of problematic or bad behavior ought to be held accountable, no matter how powerful or politically connected they are.
The same standards ought to apply in conventional housing.
The surprising truth is that manufactured homes – because of federal law – has a method to address problems that is generally not found in far more expensive conventional housing.  It's called 'dispute resolution,' and federal data reveals that a tiny fraction – far less than 1 percent – of all new manufactured home buyers end up in dispute resolution.  That's because the quality is far better than most people believe. Manufactured homes routinely get more production and third-party inspections than conventional housing does.
That's likely a factor why most manufactured home owners are happy about their investment.
But the secret that manufactured home sellers need to learn is not to over promise, and not to under deliver. There's no good reason for a seller to overpromise. Sellers should tell it like it is, not more, not less.
Home owner satisfaction surveys have been done in the year of purchase, and then years after purchase. They reveal the same point, most are happy with their purchase and lifestyle. What does third party research reveal? Most manufactured home owners like or love their homes.
They should, because third-party research done by federal or nonprofit groups reveals the quality and value too.  Once more, a partial sampling of those third-party research and reports are linked here.
Affordable housing is nonpartisan, or bipartisan, however you want to put it. MHLivingNews spotlighted that Democrats and Republicans alike – those who have studied the issues and facts – have embraced manufactured housing.  See for yourself.  You can read their own words, linked here.
But when years of misinformation have been allowed to occur, perception can become some people's realities.
For example, why has Clayton Homes grown from 13 to some 48 to 50 percent of new home production market share in 15 years?  Was it honestly or ethically achieved or not?  To begin to answer that question, read and hear what Warren Buffett and two key Berkshire Hathaway company presidents – Kevin Clayton of Clayton Homes and Tim Williams of 21st Mortgage Corp – said at this link here.
The truth is always learned in stages, regardless of what the subject happens to be.  A young child is taught their ABCs in part by singing a song.  We as parents helped teach our then younger son his numbers by coming up with a song for numbers too. Society doesn't place a toddler in high school or college, they place the young in an age appropriate kindergarten or elementary level class instead.
As we drive through some neighborhoods, sometimes our publisher – L. A. 'Tony' Kovach – asks our now 12-year-old son Tamas (pronounced like "Tah Mash" – Hungarian for Thomas) to identify which conventional houses are built over a crawl space, and which ones are built on a slab.  Tamas has gotten quite good at that observation game.
It is a little more complicated to identify which older factory-built houses truly are mobile homes – built before June 15, 1976 – and which ones are a true manufactured home. We have a video interview with an award-winning industry veteran who literally lived through the trailer house, mobile home, and manufactured home eras.  It's called "Walk Down Memory Lane," and that video is illustrated to make each point. See that insightful and funny video interview at this link here.
We've personally lived in all kinds of housing.  My parents were quite wealthy, and my father – now deceased – was a builder in my parent's native country. So, I've lived in elite housing.  As a university student in Europe, I lived in older European housing that wasn't particularly attractive.  Here in the U.S., I've lived in conventional housing, and with my husband and son, we've gladly lived in manufactured homes in several land-lease communities for many years.
So, we are not just book knowledge professionals, but rather have years of lived experiences. In the case of Tony Kovach, he's been hands-on involved in manufactured homes for over 25 years.
Having Set the Table…
Idioms are one of the hardest things for someone learning English to get.  Odds are good that if you are reading here, your native language is English.  But for me, it is a fourth language. Pardon the periodic typo or grammatical error.
The above is a lead into a comment from the general public.  It was posted on our YouTube page that has an older version of the video we updated at this link here about manufactured homes, tornadoes, hurricanes, and windstorms. That article features a surprising exclusive comment from a National Weather Service (NWS) expert. That expert reflects what Scholastica 'Gay' Cororaton said after she finished her third-party research, below.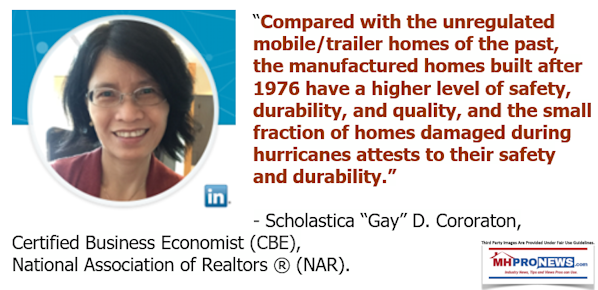 Here is that public comment from "Texas A&M 88" who posted in part "sell your product on facts not lies!" That person also expressed doubts about the veracity of our video claims about manufactured homes and windstorms. Oddly, that video SHOWS what it claims.  Meaning, that person and some others are doubting their own eyes.
Here was part of Tony Kovach's reply to that person, "Did you look at the link I sent you? Does a National Weather Service (NWS) expert's facts not count for you? Open your mind, and please learn some manners. Every time you pass – or get passed – by a manufactured home in transport, it has likely already been through wind speeds equal to an EF0 or EF1 tornado, and yet it arrives on site essentially intact. THINK, read, and watch the video."
Engagement with the public matters, just as facts do.
We don't fault 'Texas A&M 88's' skepticism, because for years people have been de facto taught to fear a manufactured home.  But people used to mistakenly fear all sorts of things that turned out to be incorrect. See this article linked here for a witty but powerful example as it relates to manufactured homes.
But let's pivot from our experience, of that of the numbers we've interviewed posted in various articles here on MHLivingNews. Let's turn to a recent letter to CommonWealth Magazine. Let's note that some of the finance comments are not quite precise, but the bulk of the insights shared by Jack Sullivan who's bio says "was senior investigative reporter for CommonWealth.  Now simply senior, he retired in December and lives with his wife in an immobile manufactured home in Florida."
Note that Sullivan's column debunks many myths, including the one that only the poor live in manufactured homes. First, it ought to be celebrated that manufactured homes provide a path to ownership for those of lower incomes, but second the well-to-do, millionaires, and even some billionaires are known to own a manufactured home.
Sullivan's column is shown between the two photos, which were part of his fine column. The only change we've editorially made is the first link, which we still link to that same video but accompanied by our fact check and analysis of that video. That disclosure made, let's dive into Sullivan's commentary.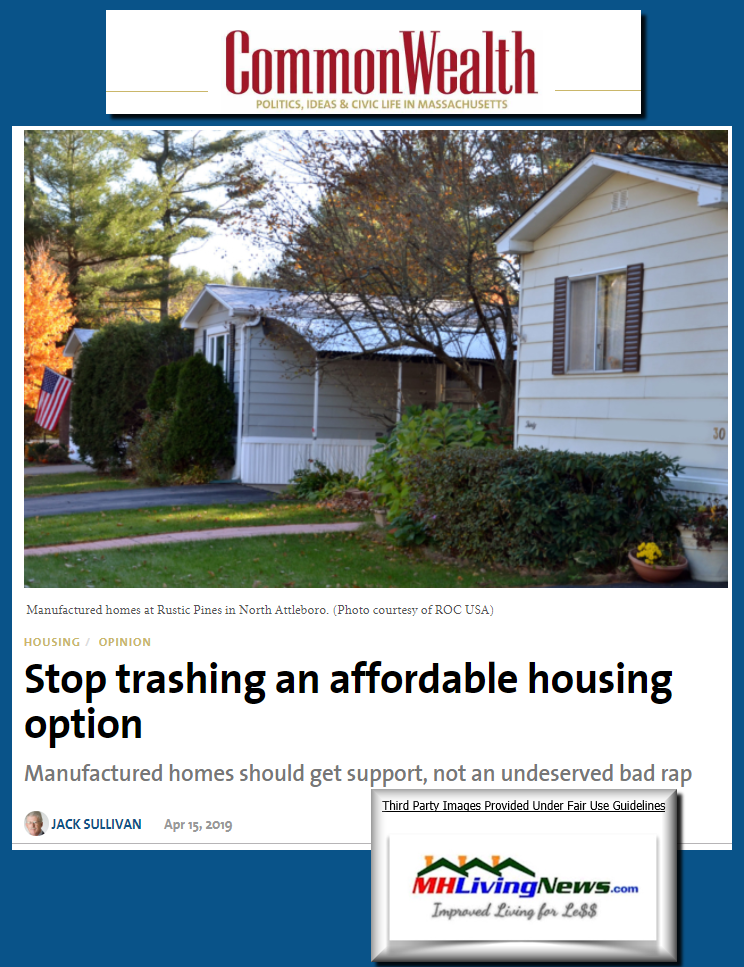 "Manufactured home" is the modern term for "mobile home," a euphemism that for many conjures up visions of run-down trailer parks with feral cats prowling for food, piles of tires strewn about, and rusted cars on dirt driveways. It's a stereotype, untrue then as it is now, that has caused many to look at manufactured homes and their owners with derision, even pity.
The latest insult came by way of John Oliver on his HBO show "Last Week Tonight." Oliver used his platform recently to dismiss "mobile homes" – the term many still use to label houses made in factories and transported to sites – as "perfected by humans, but invented by snails," showing a cartoon image of a snail with its shell "home" on its back.
But for those who own the structures and policymakers who advocate for them as an affordable option for young families and those on fixed incomes in the skyrocketing real estate market, their house is every bit a home as so-called "stick-built" structures.
"That trailer stigma is something that people have always had and they don't understand it is a viable way and affordable way to live," said Sandy Overlock, who has lived in a manufactured home in North Adams for 42 years. "If I didn't believe in them and I didn't enjoy it, I wouldn't still be living here. Mobile homes have been trashed by so many, it's just not fair."
Overlock is chairman of the state's little-known Manufactured Home Commission, created by the Legislature in 2014 and placed under the umbrella of the Department of Community and Housing Development. She is also president of the Manufactured Home Federation of Massachusetts, a residents advocacy group. But the reason the commission and the group have low profiles is because, even with strong laws protecting manufactured home owners in Massachusetts, the state lags behind many others in the number of those homes, despite the sector being the biggest unsubsidized source of affordable housing in the country.
Manufactured homes still carry the stigma associated with mobile homes, but the models are as different from each other as the Stanley Steamer is from today's automobiles. While people living in trailers dates back to the Depression and the US government set up units around the country to house temporary workers during World War II, the construction of the units was flimsy and erratic, with little standardization or required safety features.
Starting in 1976, the Department of Housing and Urban Development began issuing standards and regulations for all manufactured homes – as well as creating the term to distinguish them from their rolling predecessors – and required those homes to carry a HUD certification clearly displayed in the unit. Unlike modular homes, which are assembled on site with walls left open for local wiring and plumbing inspection, the HUD certification takes precedent and deems the unit habitable right out of the factory.
Though Massachusetts has relatively strong laws protecting manufactured home owners compared to most states, officials do little to encourage or facilitate purchases of the units despite their potential as a viable affordable housing option and a gateway to home ownership. According to Prosperity Now, a Washington, DC-based organization advocating for low- and moderate-income home ownership with a focus on manufactured homes, Massachusetts ranks 44th in the country in home ownership by its residents.
More alarming is the state ranks 49th, ahead of only Rhode Island and the District of Columbia, in ownership inequality. More than 87 percent of those in the top quintile of income in the state are homeowners while just 30 percent of those in the bottom fifth of income own their own home. About 70 percent of white households are homeowners while slightly more than one-third of households of color own homes in Massachusetts.
Given the cost of buying a manufactured home is a fraction of the median price of a single-family home in Massachusetts, which is currently about $370,000, it's a puzzle why more people don't turn to that option in this overheated market or why there isn't a more concerted effort by officials and advocates to promote the homes.
According to the US Census Bureau, which conducts an annual manufactured home survey in conjunction with HUD, there were nearly 97,000 new manufactured homes shipped to states in 2018, a nearly 4 percent increase over the year before and almost double the number from 10 years ago. But only 200 made their way to Massachusetts, a drop from 213 homes shipped in 2017 and 219 in 2016. The average price of the new manufactured home, most with multiple bedrooms and bathrooms, was $81,600 in the Northeast, slightly below the national average of $82,400.
There are just under 21,000 manufactured homes in Massachusetts in 251 parks around the state. That's less than 1 percent of the total occupied homes, owned and rented, in the Bay State, not including the manufactured homes on privately owned land, which are scarce. The communities, many of them clustered in the southeast and western regions of the state, range in size from just four homes in Willow Trailer Park in Templeton to more than 840 in Oak Point Mobile Home Park in Middleborough. And there is nothing mobile about the structures, which can cost thousands of dollars to move just across town, if you can even find someone to perform the function.
There are several obstacles to owning manufactured homes, including not owning the land beneath your house. Critics of manufactured homes, such as HBO's Oliver, point to corporate ownership of communities that places residents at the whims of the company's eagerness to turn a profit. They say equity companies are increasingly taking over the parks and spiking rents beyond the affordability level of some of the most vulnerable residents.
While there are certainly greedy companies more attuned to the bottom line than residents' well-being, Mike Bullard of ROC USA in New Hampshire, a nonprofit that advocates on behalf manufactured home residents, says those corporations are the exception, rather than the rule. He said surveys by his and other groups show the average land lease increase last year was 3 percent and most of the rents include taxes, utilities such as water and sewer, trash pickup, lawn maintenance, snow removal, and, for some, cable television.
But for those parks facing unscrupulous ownership or an owner looking to cash out and sell the park to a developer, ROC – which stands for resident-owned communities – assists those homeowners in buying the property and turning it into a co-op. ROC works with nonprofits around the country, such as Cooperative Development Initiative in Shelburne Falls, to finance and navigate the move from corporate ownership to co-op. ROC has assisted 44 manufactured home communities in Massachusetts in taking over control of their property.
"There's plenty of solid, reputable community owners who take care of their residents, said Bullard, ROC's director of communications. "But if that were the case everywhere, we wouldn't be doing what we do. The limited equity co-op model takes profit margin out of the rent."
Massachusetts is one of only four states that mandates a right of first refusal for residents and the right to match an offer when a park owner is looking to sell. For residents of Halifax Estates in Halifax such as Nancy Froio, it saved their community.
"Once you take everything that is included in our rent, our rent is $593 a month," says Froio, who, along with her late husband, bought a manufactured home 15 years ago after selling their Brockton home of 47 years. "If this had been sold to another corporation, rent would have gone up to $800. Being resident-owned is awesome."
Froio is an example of the benefit the homes hold for seniors. Looking to downsize after raising their children and retiring, Froio and her late husband purchased the home outright from the profit on their house sale. But just a few years after moving in, Froio's husband died. She said had they not moved to the park and paid for the house in full, she would not have been able to maintain a financially viable lifestyle on her single retirement income.
"It worked very well for me buying this house," she said. "After my husband passed, I couldn't have been in a better place than being here."
While cash purchases work well for seniors with equity from their old homes, young families of low to moderate means and little in savings have more difficulty in finding financing to buy a manufactured home. With the exception of New Hampshire, the only state in the country that allows manufactured home buyers to treat it as real estate with a deed and title, most other states classify the homes as personal property, or chattel.
Many states, such as Florida, still regulate manufactured homes through their motor vehicle registries and transportation departments, a remnant from the mobile home era. Others, such as Massachusetts, have no title requirements at all, making finding a loan expensive and difficult because there is nothing to secure the financing. Banks will not issue traditional mortgages for manufactured homes, except in New Hampshire, forcing buyers to go to the chattel loans typically used to finance cars and boats. Massachusetts legislators passed a law allowing credit unions to make loans up to 25 years on manufactured homes but with restrictions, such as no more than 80 percent of the value or $35,000, whichever is less.
George McCarthy, president and CEO of the Lincoln Institute of Land Policy in Cambridge, has been studying manufactured homes as an affordable option for more than 20 years, beginning when he was hired by the Ford Foundation to help develop ways for low-income households to build wealth through homeownership. McCarthy said he was "stunned" to learn how many people in that income bracket lived in mobile homes, but came to realize the benefit of such ownership. One myth that is important to dispel, he said, is that manufactured homes depreciate like cars as opposed to traditional site-built homes that increase in value over time.
McCarthy said studies have found since the standardization of units through HUD regulations that manufactured homes can maintain their value or even increase in value, a finding that has stayed constant through his years of research. But, McCarthy said, much of it is dependent on whether the land beneath the home is owned by a corporation, where there is no promise of what will happen, or a co-op, which makes for long-term security and cost certainty.
McCarthy also said changing perceptions of manufactured homes and laws to treat them as real estate rather than chattel would open up the mortgage market and make the units a much more viable homeownership option for low- and moderate-income families. While lawmakers can easily fix the deed and title issues, more work needs to be done to alter the perception, especially of affordable housing advocates, who McCarthy said see manufactured homes as "part of the problem, not the solution."
"If [owners] can get the protection of having the same protection as real estate, it's huge," he said. "The chattel market uses repossession for defaults, like cars, and consumers' rights in the repo market compared to rights in real estate process are vastly inferior. If the financing can be secured and rights properly protected, manufactured housing becomes an excellent, excellent, excellent avenue to home ownership. The affordable housing community has been MIA in a state that is in dire peril of running out of affordable housing."
Sullivan said a lot and said it well. Keep in mind that as a journalist, he likely experienced skepticism when he first approached this topic.
This brings to mind a poet laureate who shared her own column with the public about her experience as changing from a conventional house to a manufactured home. For those who want to see her column and more facts, see one or more of the links below the byline and disclosures that follow. Thanks for checking in. Why not suggest to your skeptical friends that they do the same? "We Provide, You Decide." © ## (Lifestyle news, commentary, and analysis.)
(Third-party images and citations are provided under fair use guidelines.
Soheyla Kovach co-founder of MHLivingNews, (pronounced "Co-Vatch" like a watch with a V) and is a managing member of LifeStyle Factory Homes, LLC parent company to this platform and MHProNews.
Related Reports:
Clicking on text-image graphics will take you to that report.
"Home Sweet Home" – Assistant Mayor Wants to End Housing Choice Stigma
Taking on the Trash Talk! Are People Defined by their Housing Choice? Video, Photos
HBO's John Oliver on Last Week Tonight Mobile Homes Video, Manufactured Home Communities Fact Check
Why is Seattle Dying? Affordable Housing, Misplaced Compassion, and Manufactured Homes
Mortgage Prison – What Australian Housing, John Oliver Can Teach Americans – Correcting Corruption, Incompetence with Classy Affordable Manufactured Homes
MHARR SEEKS HUD STUDY AND ANALYSIS OF ZONING DISCRIMINATION AGAINST MANUFACTURED HOUSING Washington, D.C., April 8, 2019 – The Manufactured Housing Association for Regulatory Reform (MHARR), in an April 4, 2019 meeting with HUD policy, analysis and research officials, called on the Department to conduct nationwide research – and follow-up analysis – concerning local zoning mandates that discriminatorily exclude or drastically restrict the placement of federally-regulated manufactured homes to the detriment of lower and moderate-income American families in large areas of the country.
https://manufacturedhousingassociationregulatoryreform.org/the-illusion-of-motion-versus-real-world-challenges/
Trade Publisher, Experts call for Respect, Understanding for Manufactured Housing, Manufactured Home Owners