Portsmouth, New Hampshire assistant mayor Jim Splaine is doing what he can to put an end to the stigma that's often felt by people who live in manufactured homes. Too often, the areas where manufactured homeowners live are improperly referred to as "trailer parks." Splaine said, "I think it does upset people who live in home parks and have them referred to as mobile homes."
Splaine told Jeff McMenemy at the Seacoastonline that he lives in a manufactured home community named Oriental Gardens.  There are some 34 others there, and he said he doesn't believe anyone is there is planning on, "attaching a car and moving it down the road."
In fact, with a modern manufactured home, a car or even a pickup would be unable to move it far, if at all. Because of all the building material that goes into the home, a typical single section manufactured home can weigh 20 tons – 40,000 pounds – or more.  It takes specialized equipment to move a modern manufactured home.  The reality is often the opposite of what many mistakenly think.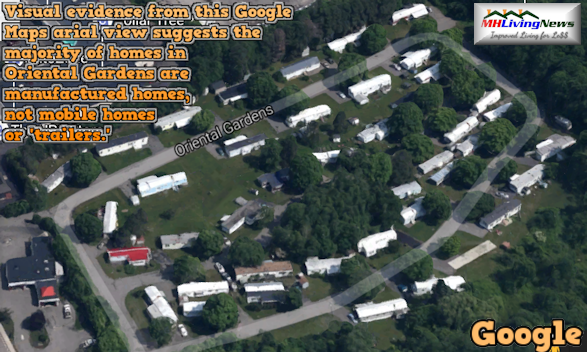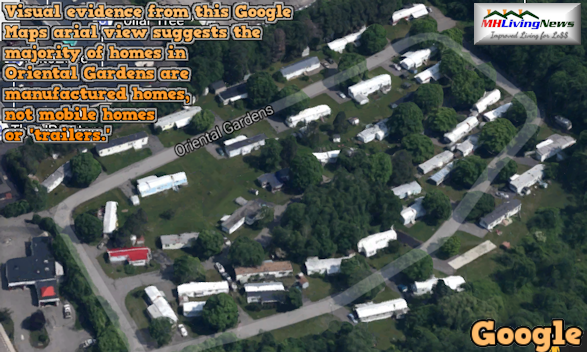 Unfortunately, the disregard for manufactured homes and those who live in them is nothing new.
As MHLivingNews recently reported, negative attitudes don't always come from strangers, as was the case Splaine described.
When retired poet laureate and author Lois Requist decided to downsize and move into a manufactured home community, she was given a hard time about it from her friends and family.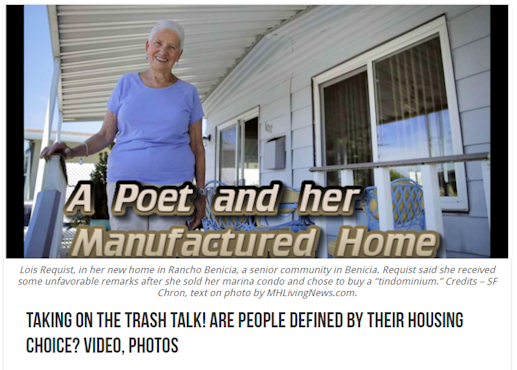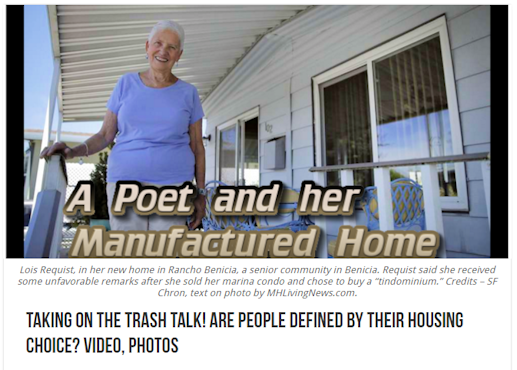 "That's really stepping down," her brother told her.
"Trailer trash? Is that what you've come to?" another friend asked.
Requist also recalled when a former neighbor said his mom once considered moving to a manufactured home community. "No mother of mine is going to live in a trailer park," he told her.
Despite the raised eyebrows, Ms. Requist made the move and exchanged the steps she was tired of climbing for a community where she can walk to just about anywhere she needs to go and is surrounded by friendly neighbors.
"So while some may be hung up on the cultural stereotype of mobile homes as "trashy," I see myself living in a cottage surrounded by flowers, in a safe community, with access to the whole of downtown Benicia and beyond that, the rest of the Bay Area and the world. That's not bad," she said.

Speaking about Florida's The Villages – Eddie Hicks, a long-time area resident living nearby in a contemporary manufactured home – tells MHLivingNews that part of that community is made up of manufactured housing, another part with conventional housing.
There is no widespread stigma in The Villages, says Hicks. In fact, he said that some who buy a house on the conventional housing side over time realize that they could have saved a lot of money by purchasing a manufactured home that looks and lives the same.
Because the homes are better understood in The Villages, residents simply accept the fact that the homes and their owners are respected.
Hick's says the same is true in some other parts of the country he has worked or visited when manufactured homes are more common, and are mixed with conventional housing that looks similar.  So when a proper understanding of the reality of modern manufactured housing exists, the "stigma" is far from universal.
Back in Portsmouth…
Currently, there are approximately 500 people in Portsmouth who live in manufactured home communities, such as Oriental Gardens and Hillcrest Estates.
The main reason there are so many manufactured homes in the city is because affordable housing in Portsmouth is scare, said Splaine. His belief is another manufactured home community "in the proper location" could generate more affordable housing in the area.
"The message should be we're all residents sharing the mutual burdens and benefiting from the community that we call Portsmouth," he said.
Splaine's push to erase the "trailer park" stigma stemmed from a recent City Council meeting.
There was an ordinance that contained a reference to "trailer parks," and Splaine requested all references like that should be removed from all city ordinances; "people who live in so-called 'mobile home parks' usually don't drive them around, so they aren't mobile and they're certainly not trailers. I think we should be calling them homes."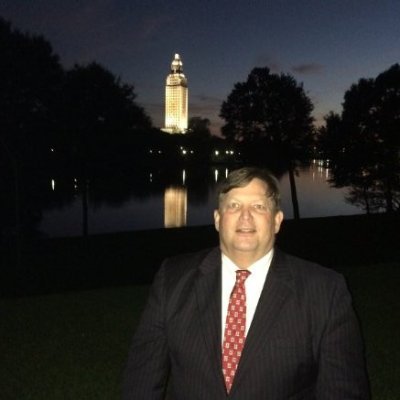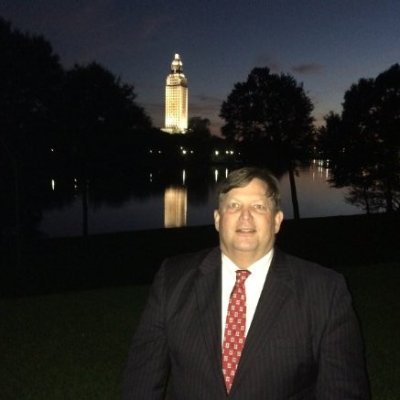 "If we're going to eliminate or reduce some of the stigma of tiny houses or micro-units or workforce housing or people who live in these kinds of homes, we should change the terminology," Splaine said. "I think we should respect everybody who lives in our city."
Steve Duke of the Louisiana Manufactured Housing Association said that "The terminology matters, because the terminology defines the construction standard." So Splaine is not only being polite and politically correct, but is legally correct in seeking the change.
Manufactured homes are the evolution from the mobile homes built over 40 years ago, which evolved from trailer houses built decades before the mobile home era.
Or as Realtor and Fox News observed,
What Is a Manufactured Home? The Next Step Beyond Mobile Homes…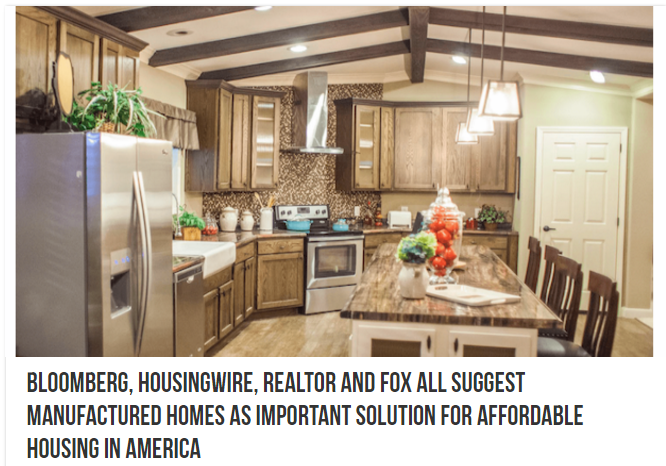 So it is not just a question of being polite and respectful, as Splaine and Requist said.  It is about using the right name to fit the legally correct description.  MHLivingNews has interviewed and featured frugal millionaires and all other classes of Americans living in manufactured homes, and one common point jumps out.
From coast-to-coast, they love their home, sweet homes. ####
(Image credits are as shown on above.)

Submitted by Joe Dyton to MHLivingNews.com.