The Up for Growth National Coalition just published a new report that says the affordable housing crisis is more serious than many realize, and is growing.
While their estimates differ, they come to a similar conclusion as the National Association of Realtors (NAR) Lawrence Yun did. Yun says there is an 8.3 million housing unit shortage. The new Up for Growth research says there has been a 7.3 million unit building shortfall in 23 states over 15 years.
The two sources, using different starting points, if you project the other states that have a lower population and housing production rates, come to very similar conclusions.  The National Low Income Housing Coalition also comes to an over 8 million housing units needed claim, based upon Housing and Urban Development (HUD) data, among others.

So there's widespread agreement that there's a housing shortage, and that shortage is hurting affordability. It's the law of supply (too little) and demand (quite high) at work, yielding high prices that are rising more rapidly than incomes are generally growing.
NAR's Yun says builders would have to get very busy. Up for Growth proposal says it would take well over a decade to close the gap using conventional, multifamily, and high-rise construction. And that's not if they're proposals get accepted.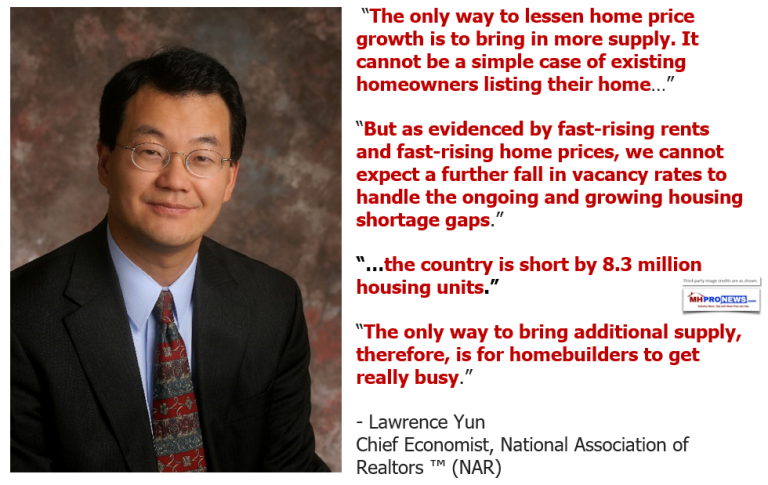 The National Association of Home Builders (NAHB) has lamented their lack of trained people. To rephrase, there's really only one way to close the gap, and that's using factory construction.
Which brings us to the solution that is hiding in plain sight, manufactured homes.
Manufactured homes are widely misunderstood.  The more people study the facts, they more they come to the kind of conclusion that HUD Secretary Ben Carson, MD came to – namely, that they are "amazing."
The "sister-site" for Manufactured Homes Living News (MHLivingNews) – professional and investor focused MHProNews.com – does periodic reports on those companies in manufactured housing that are accused of misbehavior towards consumers. When an association is misleading, we hold them accountable too.  The point is that while we are pro-industry, we are also pro-consumer.  Its about the truth of the record.
The point is we rely on facts, research, and what real people – experts and home owners say – not hype.
The people in part two of the affordable housing video focus group have no scripts, and were not compensated beyond a meal and gas money. Actually, they got less than many focus groups members are given for participating in a video recorded event.  The event was held near the Alabama/Florida Gulf Coast.  We've had other similar group interactions in other parts of the country, but this was the first time we did one on video.
Part II of our affordable housing focus group is above.
As of the time of this writing 4.20.2018, MHLivingNews' original report linked below is the #1 affordable housing focus group story, per Google.  See screen capture, below.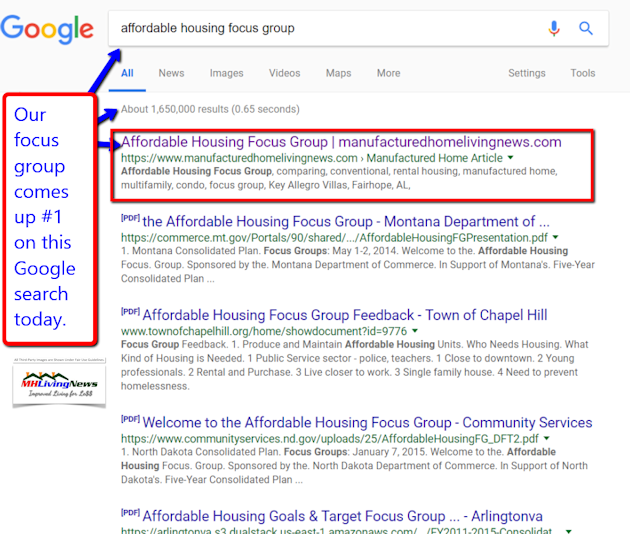 The video from part 1 of our focus group is also the #1 affordable housing focus group video in the country too, per the screen capture shown below from Google.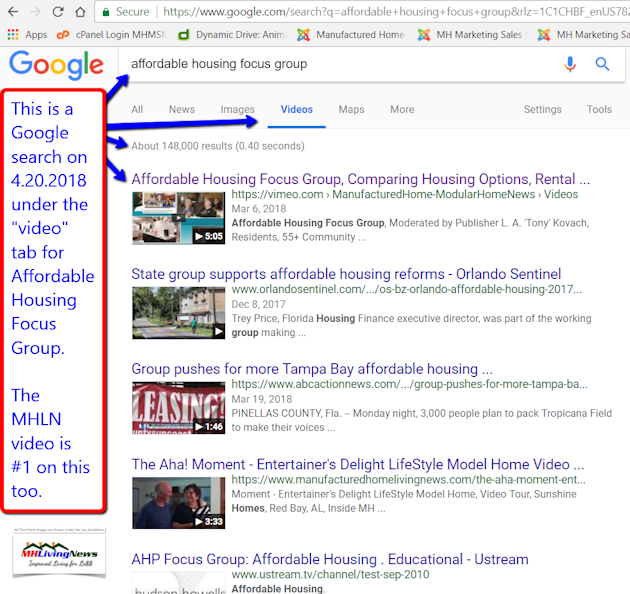 MHLivingNews reported many times that the solution to the affordable housing crisis is hiding in plain sight.  More an more in the mainstream media are coming to that conclusion.
But the real question is, what is the solution for you and those you love?  When millionaires and billionaires find modern manufactured homes to be appealing and a good investment for them, why not for the vast majority of the rest of America? "We Provide, You Decide." © ##  (Third-party images are provided under fair use guidelines.)
Related Report

:
The Ultimate Manufactured Home Industry Fact$, Data, and Insights – Bullets plus at-a-Glance Infographic

Submitted by Soheyla Kovach to MHLivingNews.com.

Soheyla is a co-founder and managing member of LifeStyle Factory Homes, LLC, parent company to MHLivingNews and MHProNews.com.