Manufactured Housing Action (MHAction) has teamed up with other progressive organizations that have published a report linked here that ripped private equity and their "predatory" moves into the manufactured home community space. That may be, but the evidence is clear that MHAction has been supported in good measure by billionaire Warren Buffett.
MHAction asks its members to sign a statement of principles or "values." It opens with these words, "MHAction staff and community leaders believe that in order to win campaigns that make concrete improvements in the lives of manufactured homeowners and create a just world to ensure our families and communities can thrive, the foundation of our organization must derive from a shared agreement on our values and operating principles."
The reason that is interesting, is that a case can be made that some of the very people that MHAction claims to be fighting to protect their members against are those that are funding it. How can that possibly work? More to the point, why would billionaires and huge operations pay for the existence of a group like MHAction, if MHAction is actually doing what they claim to do?
MHAction's full values statement – which is NOT being endorsed – is linked here. Some of it sounds benign and noble, while other aspects could be 'red flags' for people of faith who disagree with various aspects of their core principles on moral grounds.
Warren Buffett, Chairman of Berkshire Hathaway, and Private Equity
Buffett led-Berkshire Hathaway isn't technically 'private equity.' That said, "Some might not view Berkshire Hathaway as a private equity firm; however, reports say private equity titan Henry Kravis once referred to Berkshire as "the perfect private equity model," due to its massive amounts of cash and publicly traded shares for making acquisitions.""
That description of Buffett's Berkshire is per Investopedia in a post on June 25, 2019. Buffett has criticized private equity at times. But then he has also said that business reputation should be protected. Yet, Berkshire owns manufactured home brands Clayton Homes, Vanderbilt Mortgage and Finance (VMF), and 21st Mortgage Corporation, each of which have had years of negative media that Buffett claims to decry.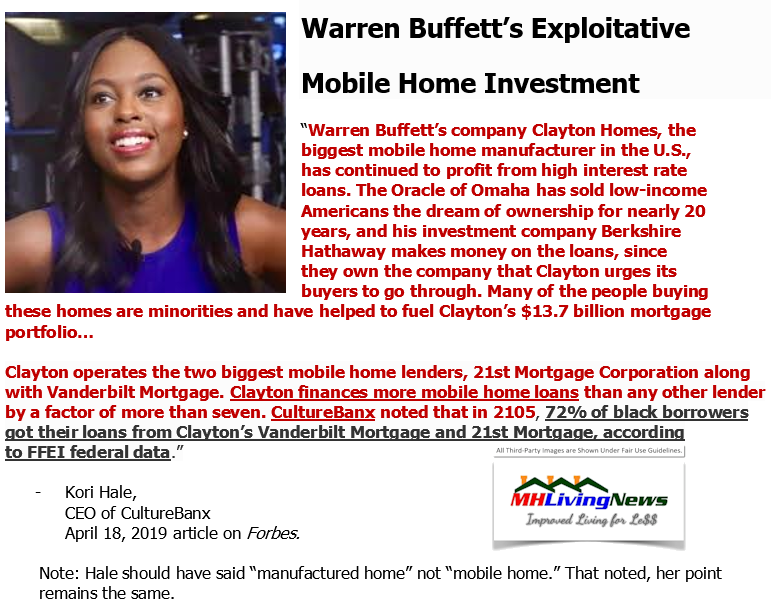 Rephrased, Buffett says some things that he apparently sincerely means, while the argument can be made that other things he's said are because they sound good but may not always comport with his firm's or their subsidiaries actual practices.
What MHAction Says About Itself
"MHAction's work began as a special project under the Center for Community Change in 2012. MHAction launched as an independent project in May of 2016 and is fiscally sponsored at Tides Center."
Influence Watch says that "The Tides Center is a subsidiary entity of the Tides Foundation, a donor-advised fund for left-of-center causes that allows donor organizations which might otherwise have to disclose contributions to liberal organizations to obscure their contributions."
Influence Watch also said that "The Tides Center has incubated numerous left-wing organizations since its inception." Not unlike Wikipedia, Influence Watch documents its statements to demonstrate their accuracy. That noted, "The Tides Center offers an array of services to help organizations from their inception onward, including helping organizations to find office space, run a new office, apply for grants, conduct public relations, handle personnel, complete payroll, budget, manage contracts, face legal challenges, and comply with government regulations."
They also say that "Perhaps most importantly, Tides Center operates as an umbrella group providing 501(c)(3) status to groups who cannot or prefer not to apply for charitable status themselves. Groups under the Tides Center umbrella inherit the tax-exempt charitable status from Tides, allowing them to accept tax-deductible contributions without an IRS."
MHAction has been accused of "Trailer Park Ploys" in tandem with private equity community operators and instructors, Frank Rolfe and Dave Reynolds.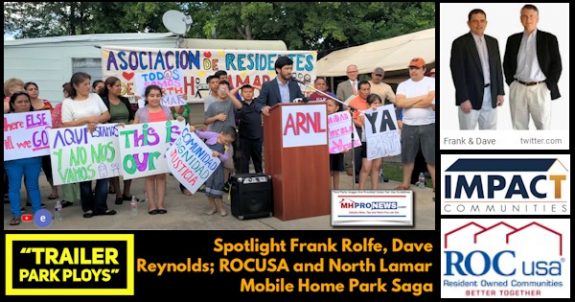 While Dave Reynolds denied the claim, the allegation connects several dots between Buffett led-Berkshire brands, "Frank and Dave," and a troubling lawsuit filed against residents by the duo.  Meanwhile, Kevin Borden, MHAction's co-director, declined comment.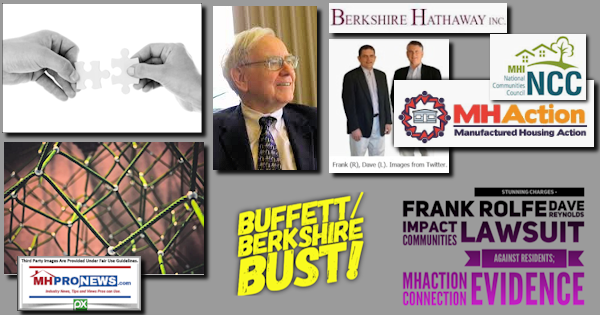 Trevor Loudon and the Capital Research Center have followed and reported on the Tides Foundation and Tides Center for years.
Loudon said "All revolutions need wealthy backers who stand quietly behind the armies of agitators. But revolutions also need bankers and brokers, middlemen who insulate the donor from turmoil as they transmit his funds to the agents of social and political change. To understand the progress of any revolution we need to "follow the money.""
Capital Research stated that "The Tides Foundation and its offspring, the Tides Center, effectively 'launder' donor dollars when they give to other nonprofits. The San Francisco-based foundation receives donations for individuals and foundations and then channels them to activist groups. The result is that the original donor can't be linked to the ultimate recipient … In theory the Foundation raises and grants money, while the Center manages projects and organizations. A legal firewall divides the two organizations and keeps their functions separate. In fact, each does both. The Foundation awards grants to groups, including groups not managed by the Center, that are promoting a kaleidoscope of liberal issues.""
Loudon says that there are numbers of activist groups that the Tides has funded, including those with ties to former President Bill Clinton and Acorn. Acorn was the community activist group that was ultimately disbanded under a raft of legal controversies. Barack Obama, before becoming president, was actively involved with Acorn.
FactCheck said "Obama's path has intersected with ACORN on several occasions – more often than he allowed in the final debate" with his GOP rival, John McCain. The Week reported on March 23, 2010 that the "Scandal-plagued community group ACORN is formally disbanding." But that was two years after Mr. Obama's election to the presidency. The now former president has a foundation, and he and his wife Michelle are wealthy themselves, from book, speaking fees, and a heft contract with Netflix, among others.
Acorn and dozens of other 'pop up advocacy groups' are part of the larger pedigree of left-wing activism that MHAction has been documented to spring from. As the MHAction website said, "MHAction's work began as a special project under the Center for Community Change in 2012. MHAction launched as an independent project in May of 2016 and is fiscally sponsored at Tides Center."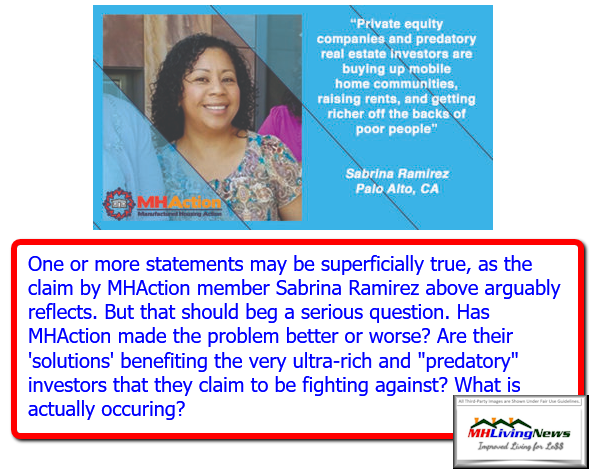 When asked about purported coordination with their supposed nemesis "Frank and Dave" on May 7, 2020, MHAction's Kevin Borden declined comment. Nor has Borden they denied the reports that connect the financial dots between Warren Buffett or George Soros and their funding via the Tides to MHAction.
How could they deny it? After all, the money trail is well documented.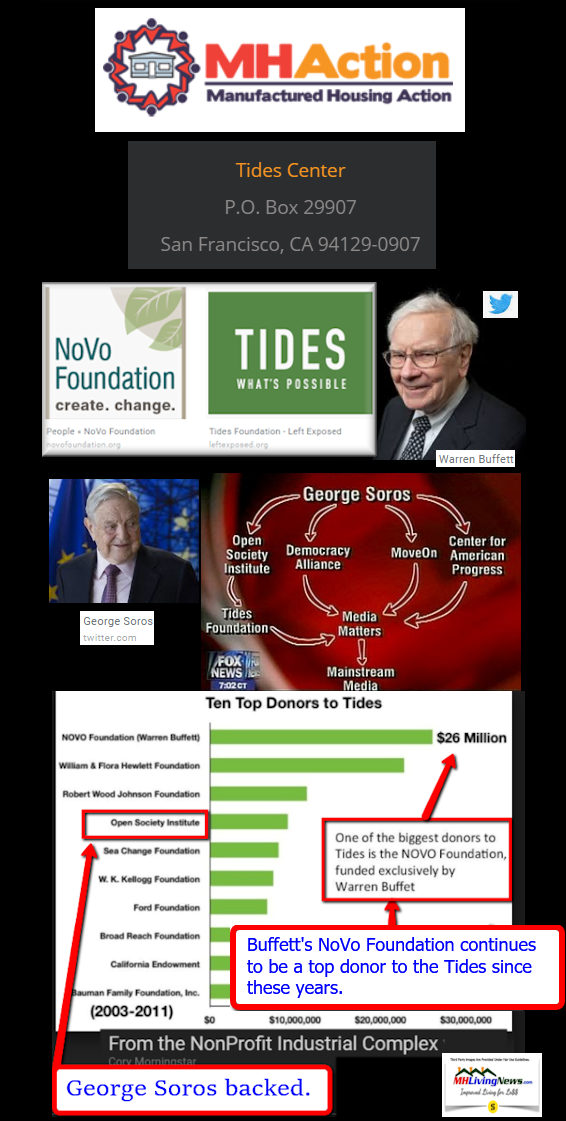 MHAction claims that they are "Fighting for Affordable Housing and Economic Security." Really? Their leaders are educated people. They are reportedly readers of MHLivingNews and MHProNews. They should know that the solution for affordable housing must include the creation of more of it. That's common sense and economics 101. Which is why the linked reports that follow ought to be part of their action plan, if they were really trying to solve problems.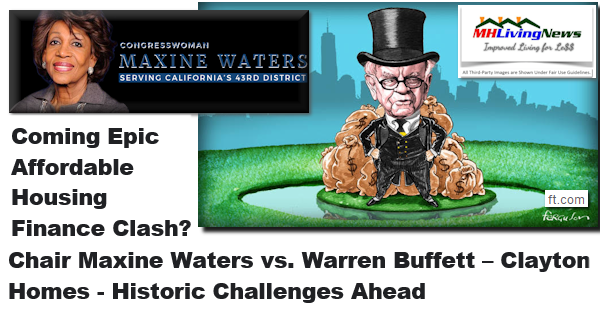 As the U.S. population grows, the demand for more affordable housing obviously grows with it. The 'solutions' that MHAction seeks fails to include any mention of the pragmatic solutions that have been reported by MHLivingNews in reports above and below.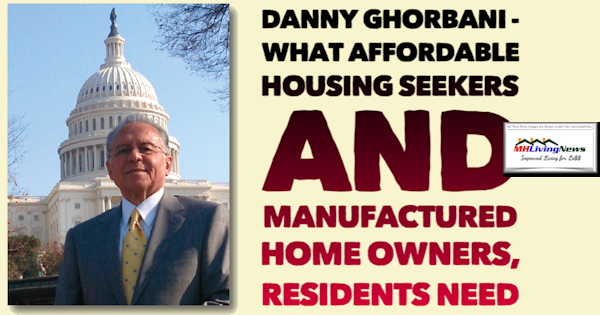 When people are frustrated with genuine problems, it is natural to seek a group that offers a solution. Sadly, some of those solutions are only making the problem worse. Those solutions are documented to be funded by the very types of people that groups like MHAction claim to oppose.
People of good will often get sucked into these organizations, believing them to be sincere. It is understandable, frankly, this writer got sucked into and for a time believed the claims of the Manufactured Housing Institute (MHI). It wasn't until years of inexplicable behavior and careful examination revealed that they say one thing, but their work produces an entirely different outcome than what they promise. Meanwhile, time and money have been expended.
Something similar is arguably at play with MHAction. As the report below made clear, the irony is that both sides of the 'battle' for affordable housing are getting funding from Buffett and/or Berkshire Hathaway.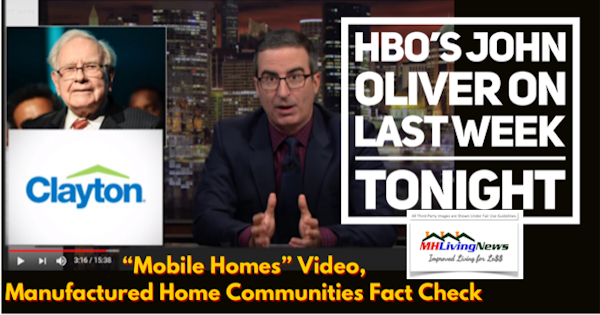 Along the way, MHAction and other groups like them are subtly changing the beliefs of tradition- and ethically-minded people who are sincerely searching for solutions. Without achieving their purported goal of creating or protecting more affordable housing, MHAction generates supporters for their beliefs that in several cases include thoughts that some of their followers once rejected. It is a reminder of an insight from the late prelate that made a name for himself among a range of believers. "If you don't behave as you believe, you will end by believing as you behave." – Archbishop Fulton Sheen.
The manufactured home industry is like any other profession. There are good, bad, and problematic players involved. Affordable housing is a necessity. Manufactured homes fulfill that need. But housing seekers should be cautious about who they opt to do business with. That's true in any profession.

The solution to more affordable housing ought to be clear. It requires more affordable housing to be built. Manufactured homes are a solid solution for that, but people like Frank and Dave, Buffett-led Berkshire and others are arguably constricting that construction directly and indirectly.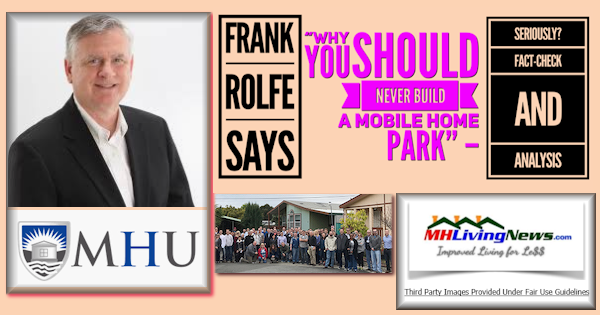 The solution? Enforce existing laws, including antitrust – 'anti-monopoly' – laws, RICO, and more. See the related reports linked herein and below.
To learn more about the facts on manufactured home living – the good, the bad, and the ugly – see some of the articles linked below. Or go to the home page or search tool to surf the MHLivingNews website. To end on a more upbeat note, check out the report linked below.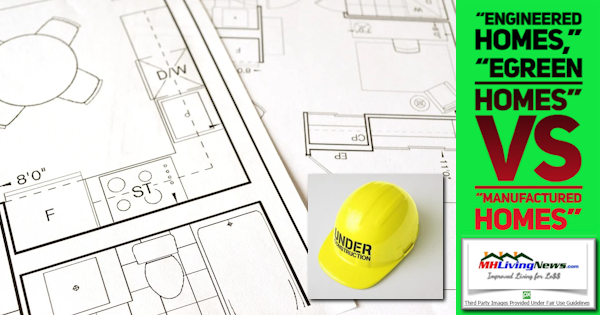 Post Script
Trevor Loudon's docu-drama, The Enemies Within, may have sounded like a conspiracy theory or fiction when it first came out some 4 years ago. But when the financial ties between the billionaires, radicals in the streets, and Communist China are considered, it is perhaps more revealing today than it was when it was first produced.
To connect the dots with Buffett, Soros, Bill Gates, see the report linked below. That report has now surpassed 1.1. million hits.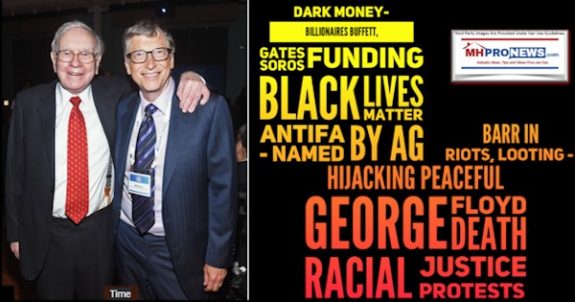 A teaser for The Enemies Within movie is below.
"We Provide, You Decide." © (Affordable housing, manufactured homes, lifestyle news, reports, fact-checks, analysis, and commentary. Third-party images or content are provided under fair use guidelines for media.)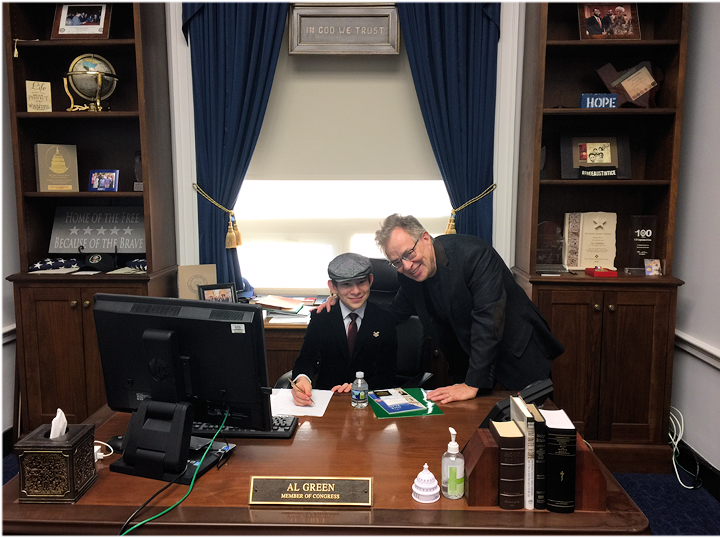 (See Related Reports, further below. Text/image boxes often are hot-linked to other reports that can be access by clicking on them.)
By L.A. "Tony" Kovach – for MHLivingNews.com.
Tony earned a journalism scholarship and earned numerous awards in history and in manufactured housing. For example, he earned the prestigious Lottinville Award in history from the University of Oklahoma, where he studied history and business management. He's a managing member and co-founder of LifeStyle Factory Homes, LLC, the parent company to MHProNews, and MHLivingNews.com. This article reflects the LLC's and/or the writer's position, and may or may not reflect the views of sponsors or supporters.
Connect on LinkedIn: http://www.linkedin.com/in/latonykovach
Related References:
The text/image boxes below are linked to other reports, which can be accessed by clicking on them.