The Wall Street Journal recently covered the wide array of lifestyle options available to modern manufactured home owners from an upscale perspective, while officials from the Federal Reserve Bank and non-profit leaders focused on a different need for affordable manufactured housing.
CFED – the not-for-profit Corporation for Enterprise Development – took a leadership role in organizing of conference with the 45 professionals to discuss the "vital part of the solution" that manufactured housing plays in meeting the challenge of affordable homes for lower income households and the potential wealth-building benefits that flow from that to households or their area. In an interesting contrast, the Wall Street Journal (WSJ) joined the growing number of main stream media outlets that provided a favorable look at manufactured homes attracting middle class to millionaire MH buyers. From poor to rich and all in between, a better understanding of the appeal and need for manufactured homes is spreading.
Middle Class, Main Street Professionals to Millionaires Discovering Benefits of Modern MH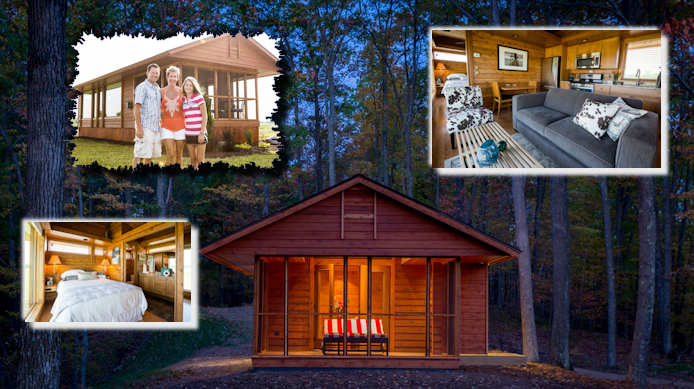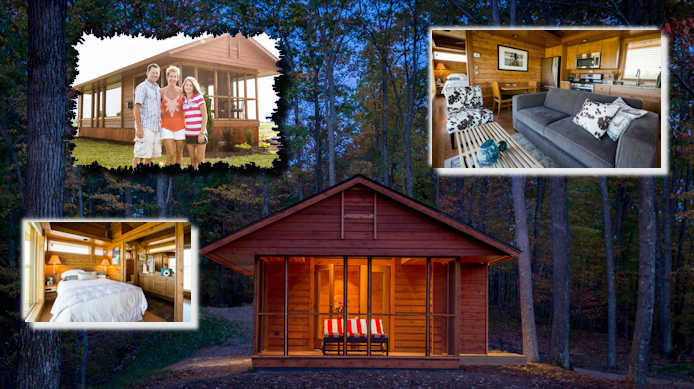 Tom, Heather and Ali Chambers, next to their new cottage,
placed on their lake lot near Minocqua, WI. Credits WJ.
The Journal (WSJ) noted that MH sales dropped, as did conventional housing, during the recent post 2008 mortgage/housing crunch. But as MHLivingNews readers know, MH has been on a steady 4 year increase.
The WSJ stated, "But while overall sales have declined, a new, wealthier class of buyer has entered the market, said Todd Su, owner and president of Advantage Homes, one of the largest manufactured-home dealers in California."
Quoting the WSJ,
"Design trends in manufactured homes have basically tracked those in conventional site-built houses, said Mike Wnek, vice president of new business development at Jacobsen Homes, a manufactured home seller based in Safety Harbor, Fla. "There's a lot of movement toward bigger and more exotic appliances—a lot of side-by-side refrigerators, wall ovens, big islands with cooktops," he said."
The Journal indicated that Kevin Flaherty, vice president of marketing for Champion Home Builders, echoed the trends Jacobsen's Wnek, pointed out.
From the home owners perspective, Sandy Bell and her husband told the WSJ that they've bought and flipped homes 5 times in posh Malibu's Paradise Cove, turning tidy profits along the way.
In Uncasville, Connecticut, 71 year old Peter and his 67 year young wife Rhonda Lebenski sold their conventional home 3 years ago and ordered a new, custom manufactured home in a Jensen Community. President Kristian Jensen III said that homes in their development start at about $150,000. But the home that the Lebenski couple ordered sold for about double that figure, with the husband touting they could get "just about anything that we wanted."
Media outlets such as CBS News and TMZ have focused with fascination on million-dollar manufactured mansions with marble floors or an array of other amenities.
But what about the entry level end of the spectrum?
As a recent survey published by Foremost Insurance noted, manufactured home owners cover the gamut that include the most affordable permanent homes in America. These can be one or two levels, and depending on the market, can be built with or without a basement. Forward looking designer/builders in California are building upscale manufactured homes that are near 'net zero' in energy use, very green indeed.
These and other facts shatter the stereotypes millions have about modern manufactured housing.
The CFED supported Innovations in Manufactured Housing (I'm Home) initiative with like-minded not-for-profits such as Next Step, ROC USA and the Federal Reserve gathering demonstrated that manufactured homes 'done right' solves many affordable housing problems in the U.S., including the opportunity for wealth building.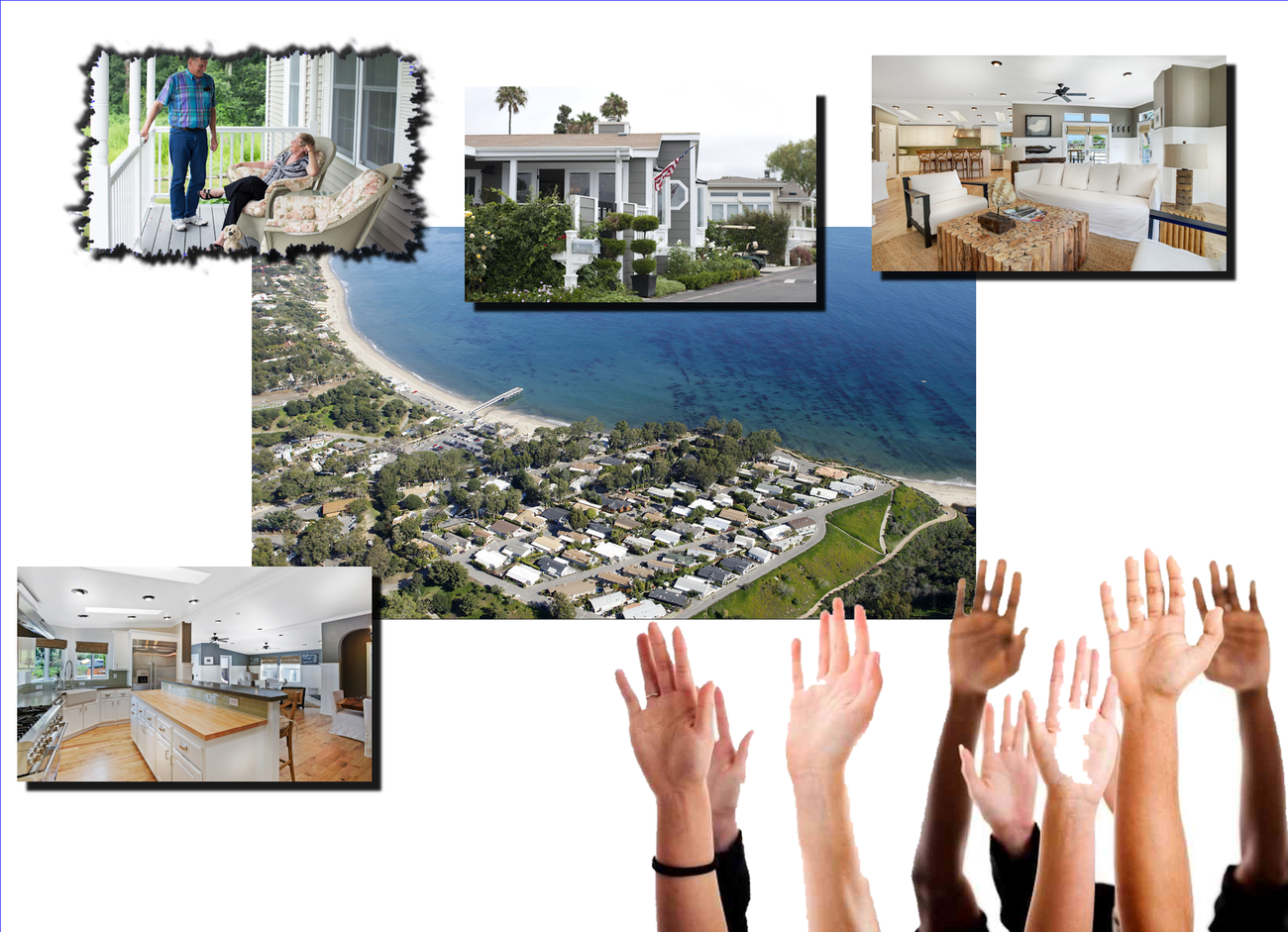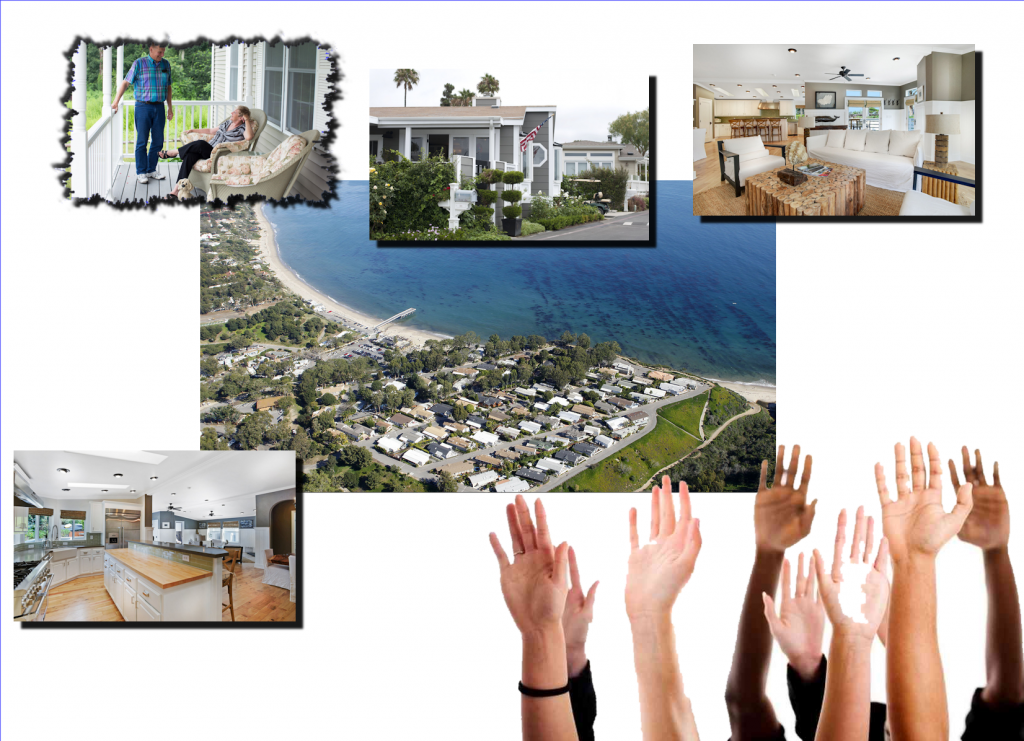 People from all walks of demographic groups and walks of life
are discovering or already benefiting from affordable, quality living
in modern manufactured homes. Paradise Cove, Malibu shown above.
Image credits, bottom right, NPR, other collage photos credit, WSJ.
Jeffrey Lubell, with ABT Associates, pointed out at another Federal Reserve meeting in July some benefits for low income or other households in ownership, which are also apply to manufactured homes "done right."
Opportunity to build wealth through forced savings and leverage

Security of tenure (cannot be evicted if pay housing costs on time)

Freedom to shape immediate physical environment

Housing costs often become more affordable over time due to fixed-rate mortgage.

May be only way to access neighborhoods with certain desirable features (e.g., good schools)
The conference members have taken their own unique look at the benefits of manufactured home buyers owning their own land, or living in cooperative communities, both of which are widely understood.
However, what is often overlooked is the fact that residents in land-lease communities that are publicly traded also have an interesting investment option. When homes are purchased for a modest monthly payment or for cash, the money saved could be used to invest in the stock of the parent company. Operations such as UMH, SUN or ELS in the U.S. – or Killam in Canada – are performing well, and often better than other investment sectors.
Ron Thomas Sr, Chairman of the Midwest Manufactured Housing Federation, told Manufactured Home Living News about the benefits from "laying off" the costs of buying and improving land possible in almost any land lease community.
Depending on the state, there are often tax advantages to each strategy – owning the land or leasing it – which prospective home buyers ought to explore. Once someone gets past the issue of where the home is made, "A Home is a home," says Stacey Epperson, CEO of Next Step.
As more Americans realize that fact and move past the stereotypes, manufactured homes 'done right' does and will provide a growing number of opportunities beyond the 20 million in the U.S. who already benefit from the array of lifestyle options. ##

By L.A. "Tony" Kovach.