Crunch, crunch, crunch. At minus 20 degrees, it sounded like walking on walnut shells as I took tentative steps into a nice 8 X 40 manufactured home in Fairbanks, Alaska. They were generally called trailers in those days when I was a young draftee, trying to find a home so I could afford to bring my wife north.
"Those tiles will lay right back down once you turn the heat on," said the salesman when I apologized for the damage, "That old Liberty is a bargain at only $2,000." And so it was, but more than I could afford on a Private's pay. We wound up buying an older and smaller home, and lived in surprising comfort. Alaskan winter nights are good for snuggling.
That was 1958—pre-oil-boom days—and the cost of housing in Alaska was very high. Thousands of manufactured homes were towed across the unpaved Alaska Highway providing a real cost break for guys like me.
Top photo from 1959:
Our 1952 California-built Rebel, purchased for $500.
We moved it 26 miles in the dead of winter, installing it beside
the add-on room shown on its left. They were called "Wanigans"
and that one cost us another couple of hundred. When we left
Fairbanks about a year later,
we sold the pair for double our investment.
The photo collage below the top pictures are from
2009 manufactured homes – 50 years difference!
Mobile homes then, to Manufactured Homes Now.
You've come a long way, Baby!
Thousands of miles of unpaved roads. Think about that. What house mover would attempt to move any other type of home so far, under such conditions? What home builder would attempt to build a house that might withstand such abuse? That aging Liberty was straight as a die, inside and out, and so was the older and cheaper home I bought for $500.
Today's manufactured homes can handle the same kind of punishment. No other form of housing is better built.
So … what about those tornado ravaged manufactured homes featured on the evening news? Well, have you noticed they're a rare sight these days? Yes, manufactured homes do get wiped out from time to time, but so do conventionally constructed homes. In fact, recent tests confirm that manufactured homes withstand hurricane forces better than their cousins built on site.
That was not always the case. After leaving Alaska, we bought a brand new manufactured home, which the dealer set up in a nice community. We lived happily there with our two kids. One day a tornado came through that area and tipped our home over on its side. No one was home, but hundreds, including friends, were killed and injured nearby in all kinds of homes. But the focus, on the news and in reality, was on manufactured homes. They took the brunt of the damage because, like ours, they were simply sitting on blocks. Conventional houses are bolted to their foundations.
So are most manufactured homes, these days. Partly in response to such horrifying scenes as we witnessed, the manufactured housing industry got together decades ago and agreed upon anchoring systems that provide storm safety comparable to other homes. Such systems dominate today and they're well proven.
Manufactured homes are not perfect. As the newest and lowest cost form of housing, they're still a work in progress, and bucking centuries of tradition that spell out what a house should be. Still, the progress has been amazing. These homes get better every year, while their cost advantage—and so many other benefits—continue to grow. ##

By Bob Vasholtz, Author of Dueling Curves.
(Editor's Note: I couldn't help but notice the keen play on words in Bob's title, that home of his 'came a long way,' and so has manufactured homes!
The cover and a comment from an industry leader about Bob's book, Dueling Curves, is below. Please Google it for more information.)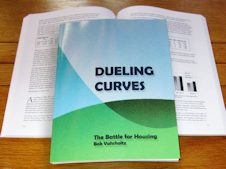 "… good book, you have some really neat history in the book and it is enjoyable reading for this factory built person." Joe Stegmayer, CEO Cavco Industries.