Please tell our readers your WHO, WHAT, WHEN, and WHERE?
Tim Williams, Executive Director, Ohio Manufactured Homes Association (OMHA), Dublin, Ohio.
Tim, give us some insights into your background, prior to entering the factory built home arena.
U.S. Secretary of Labor Representative /Spokesperson, Great Lakes Region, President George Bush Administration (Presidential appointment")

Assistant Secretary of State, State of Ohio.

Vice President, Human Resources of Midland Company (American Modern Home Insurance).

Director, Human Resources for the State of Ohio.

City Councilman Canton, Ohio.

Senior Human Resources Management, Diebold Inc.
When and How did you get involved in the manufactured home industry?
I joined OMHA (Ohio Manufactured Home Association) in September 1995 as result of my prior experience as Vice President at manufactured homes insurer American Modern Home Insurance. I was familiar with the industry.  I recognized my extensive political experience and contacts as well as prior business experience would be a good fit for OMHA as well as for myself. I was excited to join OMHA and remain so today.
Tim, please tell our readers about your Interests and Hobbies.
I competitively raced in the U.S. Legends Stock Cars touring series (based in Charlotte) for 14 years and enjoyed significant sponsorship from the manufactured homes industry. I also won two state championships during my career. I play quarterback in flag football leagues and in basketball leagues with my son's teams (yep, still plenty of gas in the tank).  I am also a student of American history and avid supporter of Kent State University athletics and student mentorship program.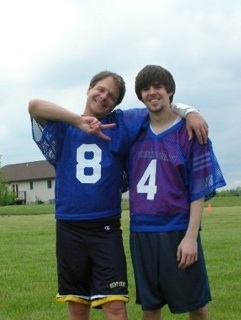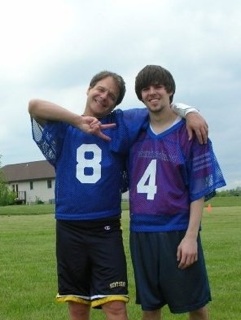 Tim, as you know, the media and the public often have some outdated or misguided notions about today's manufactured homes. How does OMHA deal with Media/Myths? Please give us some examples of myths and how you respond to them.
(Myth) The most common misconception is that they are trailers.
(Response) Manufactured homes are built with the same materials as site built homes but have the advantage of a controlled factory environment where every home is inspected by the federal government.  Our homes are half the price per square foot with every possible amenity. In Ohio, every home receives three on-site inspections consisting of foundation, utility, and final occupancy. Ohio has one of the strongest consumer protection programs in the country. These inspections are regulated by an Ohio Commission of which six of the nine members by law are appointed from a list of nominees from (all industry members) submitted by OMHA to Ohio legislature leaders.
(Myth) A second myth is the typical "Those people" who live in trailers…
(Response) Those people are hard-working factory workers, retirees, working families, single parents, and you and me and many others. "Those people" are often of moderate income and have realized the dream of home ownership which would not otherwise be possible had they not made the choice of a manufactured home living.
(Myth) The last myth we see is manufactured homes are destroyed by tornadoes.
(Response) So is every other home or commercial structure that has been hit directly by a tornado. (Editor's Note, also see the video at this link).
What do you think of the RV MH Hall of Fame as a destination for the public?
Sure, however the history of manufactured homes is really a primary interest to our industry. Nonetheless, the RV/MH Hall of Fame can showcase its facility perhaps by displaying and promoting today's homes. As I responded to this question, I just received a press release indicating that Fairmont Homes is doing just that. Fairmont's permanent home display will be a great asset to the Hall of Fame and our industry.
Tim, your association plans to do a public days in your state, please tell us more about the Ohio Public Home Show, planned for the Spring of 2014:
"Build it and they will come."
"See it and they will be amazed."
"Expose them to the affordability & quality and they will buy."
The public show is planned for May 16, 17, and 18th of 2014 at the MAPS Air and Field Museum Canton, OH (the heart of the Utica Shale region).
Based on preliminary interest expressed, we expect as many as 15 homes and a number of non-industry exhibitors joining our Manufactured Home industry exhibitors.
Ohio law has been changed as result of OMHA lobbying and homes can now be sold to customers at the show. Now where else can the public see the manufacturer, manufactured home community, or retailer all in one place? Possibly 4,000 people will visit the display over one weekend!
Tell us about the manufactured home builders based in Ohio.
Skyline Homes and Manufactured Home Enterprises (MHE) have plants in Ohio. Skyline in Sugarcreek is doing extremely well and is strategically located in the heart of Utica shale region. Skyline has a strong overall relationship with industry retailers and MH communities in the state. Skyline has been a strong supporter financially and otherwise of OMHA.
MHE in Bryan, Ohio has been in Ohio a long time and also enjoys retailer support in the Utica Shale Region as well as other regions of Ohio. MHE has seen their market share in Ohio increase in recent year and enjoys long standing relationships in the state.
Just for fun, please give us some insights into your favorite place and meal for Breakfast.
Well breakfast is the most important meal of the day and I usually eat cereal at home. However when I do go out for breakfast I love my eggs sunny side up, toast, hash browns with cheese either at Bob Evans or the Waffle House.
When consumers are shopping for a home, they may gain confidence when they understand that organizations like the OMHA have a Association Code of Ethics.
Consumers are assured our member companies adhere to the Association Code of Ethics and receive ongoing education to ensure consumer safety and that the home buying process meets or exceeds all regulations.
OMHA's legal counsel advises member companies regarding laws and regulations and has mediated when necessary to ensure customer satisfaction.
The Ohio Association has lobbied for numerous law changes over the years that have drastically lowered home owner property and sales taxes and opened up zoning so homeowners can site their homes nearly everywhere in the state.
OMHA also has a strong working relationship with the Association of Manufactured Home Residents of Ohio (AMHRO) and have partnered together on legislation and other matters to ensure better homeowner satisfaction and affordability.
Any closing thoughts to share, sir?
Thank you MHLivingNews for the ongoing promotion and commitment to the manufactured homes industry as the premier public MH industry news and information source.
I strongly believe the best image and promotion campaign our industry should consider are public home shows. Seeing is believing and that is one of our strongest and most effective image game changers.
One last thought for those of you who watch or attend racing events — remember a short prayer before each race, "God bless the boys (and girls) who make the noise." ##
UPDATE 4.15.2021