The Tiny House movement has been making the news for some years, and the Tiny House Nation TV series has been picked up for a second season. These micro-dwellings are seen as "trendy." While millions believe they would never consider a housing unit so small, the fact that it's catching attention with millennials and down-sizers alone makes it something to follow. But are there useful take-aways for those looking for larger and other sized homes too?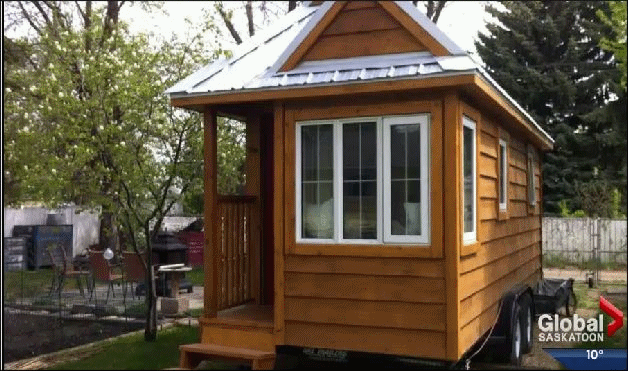 GlobalNews shared insights with ManufacturedHomeLivingNews on a tiny dwelling or tiny house story through this video. Lydia Holden explains how this style of living is changing her life, and she is clearly excited about it.
On the other end of the spectrum from the home buying public are city planners, who on both sides of the U.S.-Canadian border often been quite interested in accepting micro-homes. In some states like California, accessory dwelling units – also called "backyard homes" or "granny flats" – are making their way into mainstream housing.
What such small homes ought to spark are discussions on other options, greater acceptance of different styles of housing and factors such as cost.
Holden said her tiny home cost her "only" $30,000. Certainly compared to new conventional housing that might cost 5 to 10+ times that amount, $30,000 is a modest sum.
Yet as manufactured housing professionals point out, that same $30,000 would buy an entry level manufactured home around 900 square feet in many U.S. markets. A single sectional '14×70′ may have 3 bedrooms and 2 full baths; about 6 times more space for the same dollars as Holden's tiny house. That larger size means it can attract a wider audience. 900 square feet would be a rather common size for many apartments, and with the manufactured home, it could clearly cost less to own than to rent.
Still more options?
But somewhere in between the tiny houses and full sized manufactured homes are "park model" homes. The park model sized home in this second video is about 3 times the size of Holden's tiny house.
It is interesting to note that many tiny houses are built on a frame, but that doesn't cause them to be called a 'trailer.' Manufactured homes or park models are routinely built on frames, but are typically moved once to their final destination; then are installed for safe, permanent full time living. A frame makes the home stronger, and some site built housing also have metal i-beams if a long span needs to be covered.
When more tiny houses become factory built, the cost of those are likely to come down. With housing affordability on the minds of citizens and cities from coast to coast in the U.S., Canada and beyond, having quality low cost homes simple makes good sense.
Those shopping for a home certainly need to consider all of their options to make the most informed decision. We'll circle back to this tiny house, 'backyard homes' and related topic in the days ahead. ##

By L. A. "Tony" Kovach