Shortly after Miss South Carolina, Brooke Mosteller, sounded off about manufactured homes in South Carolina, the BBC did a story that asked the question, Why do so many Americans live in mobile homes? The title and some of the article's terminology was a mix of accurate and off-target insights, so let's take a closer look at their story.
Tom Geoghegan's BBC report ought to be commended for bringing out some interesting points, including the fact that TV/movie stars Pamela Anderson, Minnie Driver and Matthew McConaughey all live in manufactured homes. So does screen star Betsy Russell, as we showcased her 2 million dollar manufactured home in the photo gallery rich story linked here.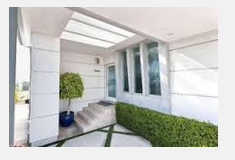 In fact, a number of rich and famous people live in and/or are connected to the manufactured home lifestyle. As the BBC report states, some of the highly custom manufactured homes owned by screen stars boast marble floors and command $2.5 million dollars.
The reality of multi-million dollar manufactured homes flies in the face of the image of run down "mobile home parks" and that terribly demeaning terminology of "trailer trash." There are site-built housing and factory-built homes and neighborhoods that are grand, sad and everything in between. Proper upkeep is the answer for all housing. So why do some in the media persist at fueling old, outdated and improper stereotypes about older mobile homes?
While alluding to the fact that middle class, residential style manufactured homes exist and pointing out that some of the rich and famous live in stunning, custom manufactured homes, the bulk of the BBC's report focused on the "poor" who live in "mobile homes." There was no clear-cut explanation that mobile homes have not been built in the United States since June 15, 1976. There was little tackling of outdated myths, as was done by Real Estate Center Economist, Harold Hunt, PhD, who showcased the energy savings and appeal of modern manufactured homes in an article linked here.
On the topic of the poor living in older mobile homes, there are in fact more blighted neighborhoods in America that are built using 'conventional construction' or onsite building. Some of those dilapidated old houses and neighborhoods make even 70 year old photos of an old "mobile home parks" look good, as the side by side comparative pictures below suggests. Too often, the media seems to fixate on negative images rather than highlighting positive ones, but that too seems to be slowly changing.

Charles Becker, a professor of economics at Duke University, was quoted by the BBC as saying that not all who live in manufactured homes are poor. Professor Becker also pointed out that Michigan and Florida are among the areas that there is little or no 'image issue' and where the residents are anything but poor.
The BBC cited "…the Manufactured Housing Institute, about 57% of the heads of mobile home households are in full employment and another 23% are retired. But the household median income is only a little over half the national average."
The fact of affordability with dignity ought to be a cause for celebration! That fact ought to be a wake up call for those who do not yet understand or appreciate the durability, quality, affordability and appeal of manufactured homes today.
Millions of Americans and many cities are struggling to find more affordable housing that the manufactured home industry uniquely offers. As Jim Clayton, founder of Clayton Homes and now Chairman of Clayton Bank said at the recent National Communities Council Fall Leadership Forum, there are manufactured homes and land lease communities for every possible lifestyle and budget.
As a former American president once said:
 "There is no dignity quite so impressive, and no one independence quite so important,
as living within your means." – Calvin Coolidge.
 We can all find neighborhoods that have homes that are 40, 50 or 60+ years old that need help.
But we can also find older housing that's well cared for, and the same is true for pre-HUD Code mobile homes. The BBC thoughtfully offered some photos, such as the one from Thinkstock, that make the point.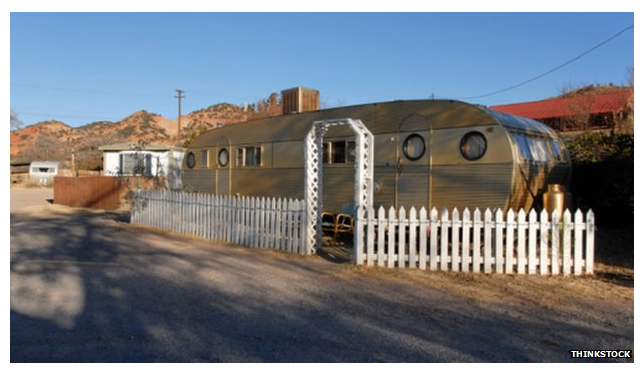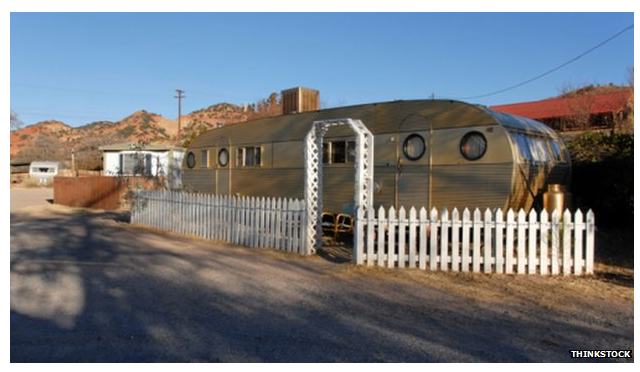 What needs to be stressed more by the media is that just as cars are better today than 40 years ago, and our phones have become smart cells instead of rotary dial phones that hung on a wall, so too mobile homes evolved into modern manufactured homes in steady stages of improvement. A look at some of the Featured Homes here on Manufactured Home Living News is a good way to begin to dispel the myths of yesteryear and highlight the dramatic progress that the factory built housing industry has made.
So while Tom Geoghegan's BBC report mentioned the fact that many manufactured homes defy the stereotypes and stigma, it rates perhaps a "C" in terms of overall balance and clarity as to how vastly improved today's homes are. We also need to see the media stress the point that older mobile homes are still amazing home values that have often appreciated in price, which defies other false stereotypes.
Manufactured homes are becoming increasingly popular once more. As incomes have declined, retirees numbers swell by more than 10,000 daily and the dream of home ownership remains strong among Americans, count on modern factory-built homes to be an ever more important part of the housing mix in the years ahead.
That is why legendary investors such as Warren Buffett and Sam Zell are invested in the manufactured housing sector to the tunes of billions of dollars. The strong fundamentals of the manufactured housing business are no doubt what attracted the Carlyle Group into its first to major forays into the land lease community space. That is why Sam Landy, CEO of UMH Properties, continues to purchase manufactured home communities, as do a number of his peers. Strong fundamentals are also why Landy stated in an interview with MHProNews.com that he can see new manufactured home sales levels reaching 300,000 to 400,000 annually.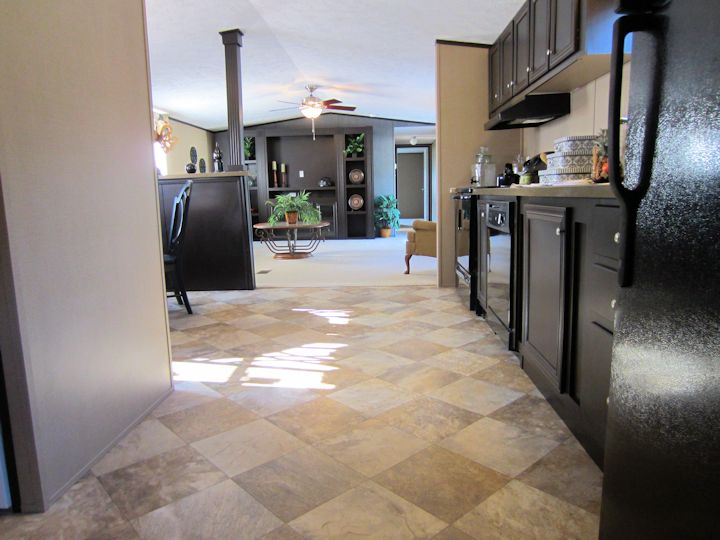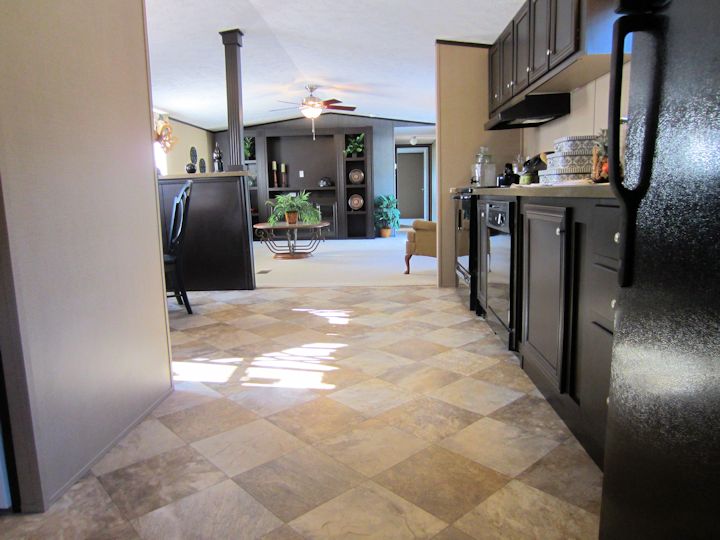 3 bedroom, 2 bath manufactured homes such as this can
etail for a base price starting under $40,000 for 1200 square feet.
You can see an article comparing entry level and residential
style manufactured homes, linked here.
 When a wide range of savvy professionals are attracted to or are growing their investments in manufactured housing, you can bet there are good reasons.
 When you can serve the rich and famous, middle class and poor alike with homes and lifestyle for every taste and budget, the time to lay to rest old stereotypes in favor of modern facts today is at hand.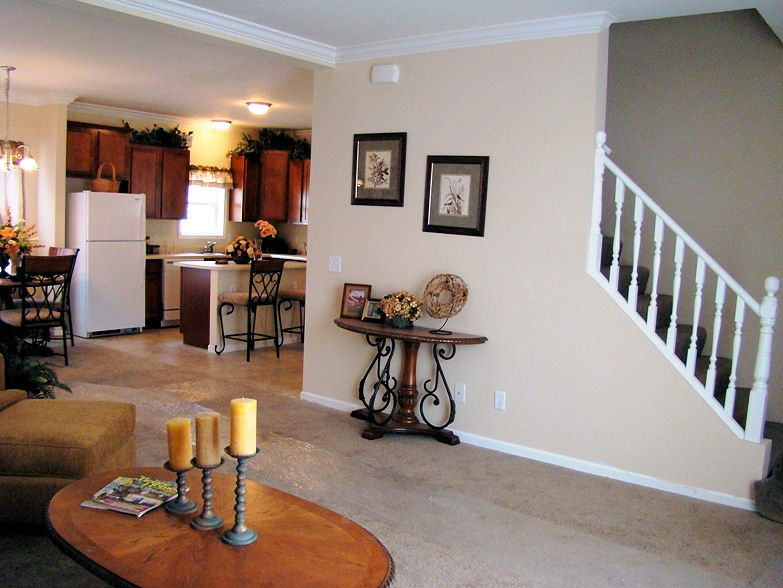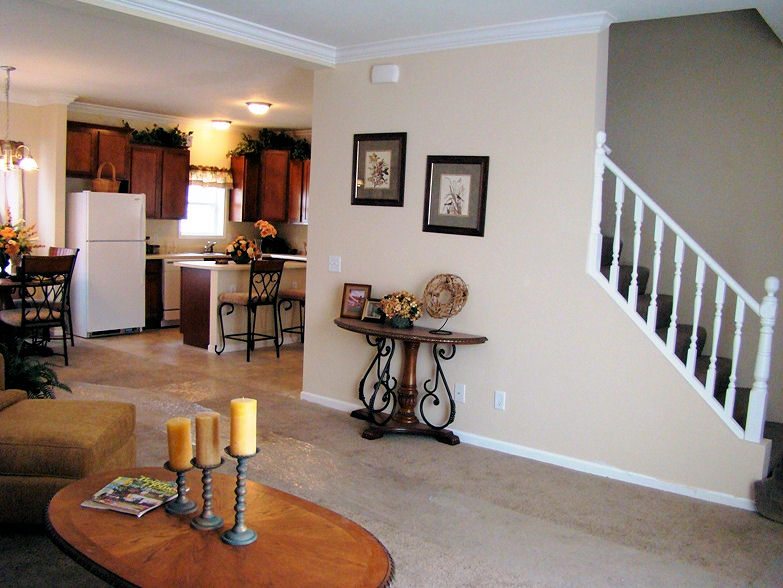 Residential style two story manufactured homes with 2400 finished square feet can
retail with a base price of under $160,000, which is less than $65 per square foot.
Residential style homes single level homes cost
even less per square foot than the home shown above.
 So what do actors Pamela Anderson, Matthew McConaughey and Minnie Drive have in common with 20+ million Americans? They all were smart enough to get the most home for their housing dollars by living in manufactured homes. Those are just the facts. ##