Some stories just have to be heard for us to connect with them, so we'll let the video below tell you an intriguing part of Sue's family story. As you'll see, Sue Midgett lives in Westville, IN at New Durham Estates. Sue was one of the wide variety of manufactured home owners and professionals we interviewed the week we recently spent in Indiana and Pennsylvania, as winter was winding down.
As a programming note, our "INSIDE MH – Road Show" will be heading north again soon, this time to Michigan, as well as Indiana. We plan a swing through the southeastern U.S. soon, too. So you'll see more true-to-life-stories from Ohio, Pennsylvania, Indiana and other states. Over time, the "INSIDE MH – Road Show" will reach out to other parts of the U.S.. The goal is to have videos and stories from all 50 states. That said, back to Ms. Midgett's video!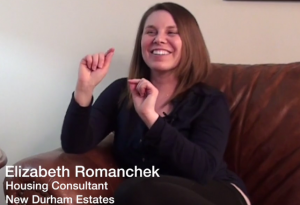 It should go without saying that those who live in manufactured homes (MH) ought to have a voice in telling their own stories. So we ask each person we interview about their interests, career and how they came to where they now live. We ask them to share their thoughts about the MH lifestyle. By the time the video edits are done, those we interview for Inside MH may not get their full fifteen minutes of fame, but they'll get a nice part of that with the finished videos we share with you.
Years ago, Sue lived in a pre-HUD Code "mobile home," then a townhouse and finally bought the manufactured home she is living in today. For newcomers to MHLivingNews.com, there have been no mobile homes built in the U.S. since June 15, 1976. The homes today are built to the tough federal

safety and construction standards – known as the HUD Code for manufactured housing – and are a focus of our educational and entertaining videos and articles. For insights into modern MH from a recently retired federal official, the video with Bill Matchneer, JD, the post MHIA 2000 HUD Code program administrator, is linked here.
Sue's personality shines through during her interview, she was a true joy to speak with. In this INSIDE MH video, you'll also have an opportunity to see an upscale, residential style manufactured home. FYI, the tapping you hear from time to time is her fiddling with the coffee mug on the table.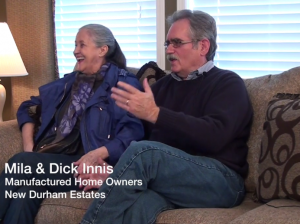 One of those upcoming interviews is with the Innis family. They lived in fine houses, which they sold. Mila Innis has a solid real estate background. She and Dick moved from down south into their new residential style manufactured home, which they love. Stay tuned for their keen insights from that upcoming video.
Most people are relaxed when we speak to them.  Some are a bit nervous when you tell them you want to do an interview. We strive to make their conversation with us as pain-free as possible, and usually we'll get them laughing at some point, as you'll see from the intro footage of interviews to come from our road shows and interviews with MH pros, too.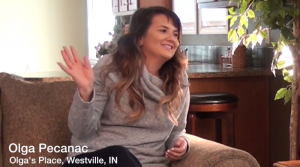 When you don't see the laughter in a given video itself, it may be because I goofed, and we are all laughing about it – and we then edit that glitched part out. We'll do an outtakes video at some point, because we have some great ones to share!
When you have an online publication called Manufactured Home Living News,  that gives you a strong clue as to what our stories are about. We hope you'll enjoy and learn from this one, and others. If you haven't done so lately, let me encourage you to explore the world of contemporary manufactured home living first hand. ##
(Editor's Note: when we first produced this video and published this article, we had a typo in Sue's last name, which is Midgett.  There is no e.  We will update the video and graphics soon to correct the error, for which we apologize.)

By L. A. 'Tony' Kovach.