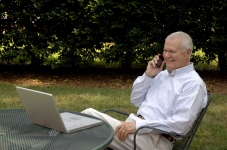 The pros at MHVillage tell us that almost everyone who wants to sell their manufactured home would be well by working with a professional.  After all, selling a home can be a complicated and confusing process and many folks simply don't have the time, or the know-how, to properly sell property. 
However, that doesn't mean that we can't learn from listings For Sale By Owner (FSBO.)  In fact, homeowners tend to write terrific home descriptions and take great photos.  Why?  Because they care.
What FSBOs have that Manufactured Home Professionals Do Not:
Living, breathing day in and day out knowledge of the home.  When you live in a home, you know what makes it great; you know why you bought it in the first place. 
Maybe it was the amenities offered by the manufactured home community, the great view, the good school system, the spacious living room or the deck out back. 
Maybe it was a simply good place to live with a low lot rent, but in any case, a homeowner intimately knows the pros and cons of their own homes.  Let's take a look at a couple of examples.  Here are two actual examples of home descriptions from MHVillage.
 Home #1
This gorgeous home has lots of storage with open floor space. The home includes: A large kitchen with lots of oak cabinets and counter top space, breakfast bar, pantry, formal dining room, bright, cheerful breakfast/sun room,PLUS family room. Surrounded by trees but with an easy care yard, on park walking path. Floor Plan offers a private, master suite with separate walk in shower, garden tub, linen closet and skylight. Double tandem carport, 2 decks, one which overlooks green belt area. Ceiling fans in every room, and an evaporator cooler that keeps this home cool and comfortable.  Please call 999-999-9999 for more information or to schedule a walk through.
Home #2
New carpet and hardwood floors.
Hmmmm…. which home would you want to drive out and see?  Keep in mind that both these homes are in the same manufactured home community, both listed at about the same price. 
The only major difference is that one of these homes was listed by the owner and another was listed by an industry professional. Can you guess which one?  The top description was written by a homeowner who is obviously passionate about their home and willing to go the extra step to sell it. 
And you know what?  It works! ##