It's a sad day when a good and necessary product or service gets sullied by the bad behavior of certain businesses.
At the end of this fact check and exposé will be a video with happy manufactured home customers, but they are not customers of SSK Communities, who recently changed their name to Flagship Communities. Keep in mind that their retail sales arm is called 'You Got It Homes.'
Housing, especially affordable housing, is a necessity. Manufactured homes and manufactured home communities can be a good option. But for some years, pro-consumer and pro-ethical business practices MHLivingNews has advised home shoppers to do their homework about any company or community they are considering doing business with.
Today we will spotlight and caution shoppers about what could be the next trend in masking purported bad behavior by a company; rebranding or renaming a company, and then arranging for an 'award' by an association that a problematic operation already has influence with.
No Spin, Just Facts
If you go to the Better Business Bureau website, on today's date, if you type in the name SSK Communities, they are shown as an "F" rated company. Where I come from, an "F" is a failing grade.
So, some might think it odd that the Kentucky Manufactured Housing Institute (KMHI) recently gave an award to Flagship Communities?!? What? Keep in mind that Nathan Smith holds a board position with SSK.  Smith also was the past Chairman of the Manufactured Housing Institute (MHI).  As a disclosure, we did an interview with him some years ago, but that was before these examples of negative mainstream news reports surfaced.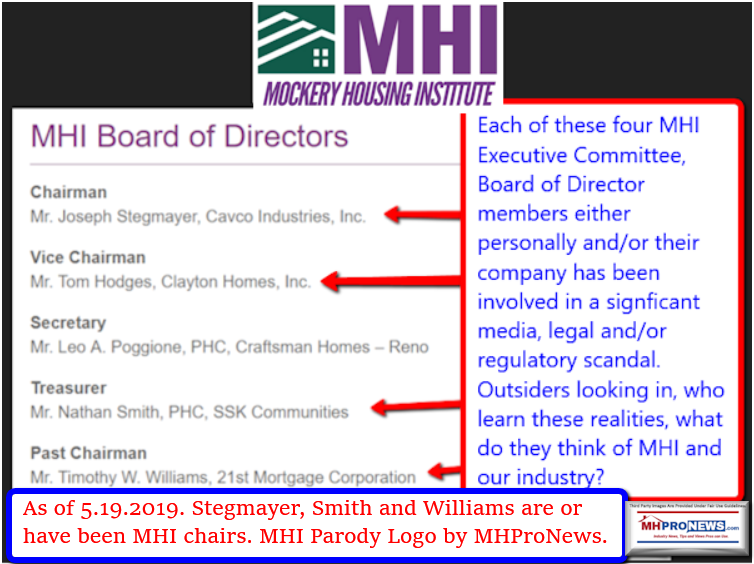 Nathan Smith, shown in the photo at the top of this article, is an influential person in state, regional, and national politics. He did a fundraiser for Secretary Hillary Clinton. He allegedly uses money to buy political influence.  The fact that he is a Democrat – or any other political party – should not be held for or against him. Rather, it is his operation's track record professional behavior toward customers that ought to be called into question.  Keep in mind that we believe that manufactured homes are a non-partisan or bipartisan issue.  Democrats and Republicans who have been researching manufactured housing are coming together on this option as a proven solution to the affordable housing crisis. See the related reports, below the byline.
So, before you fall for a slippery trick of buying or leasing from a newly renamed company that has a track record of legal and regulatory issues, imagine a big CAUTIONARY 'red flag' going up.

Maybe red is the flag that the former SSK Communities renamed Flagship Communities ought to be using in their logo?
Nathan Smith has been spotlighted previously here on MHLivingNews. While it isn't obviously mentioned as such, his SSK firm was one of the companies that has a news video clip in the viral hit Last Week Tonight with John Oliver in it. Notice the still from Oliver's video below? It clearly says, SSK Communities.
ICYMI, you can see our report on John Oliver – including that full video, at the link below.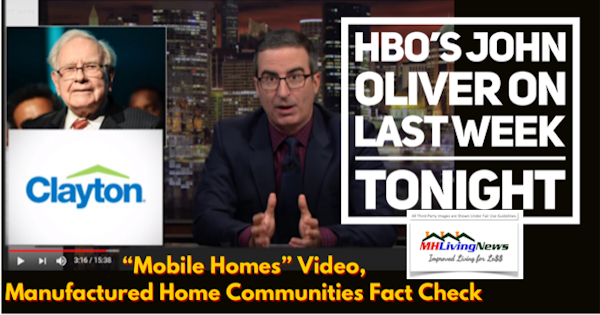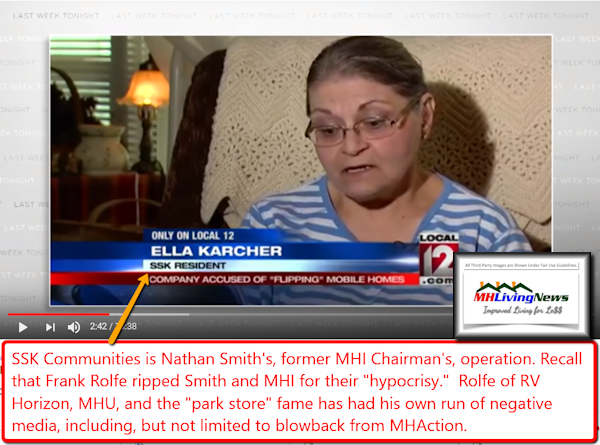 A common thread with this John Oliver video is that each so-called predatory firm seems to have has direct and or indirect ties to the Manufactured Housing Institute (MHI). That's not to imply that every MHI firm is a black hat brand. There are arguably good people and good companies in MHI, for a variety of reasons. Some say privately that they were bullied or virtually forced to join in order to do business with a larger company. Others were in in MHI before it turned into something that seems to attract operations that get mentioned unfavorably.
So, just because a company is a MHI or KMHI and says they have an award, don't let that stop you from doing you homework before signing any document. In fact, for reasons noted in a report linked here, an MHI award may be a good reason to do more homework, not less.
Note that we've give Nathan Smith, MHI, Clayton Homes, 21st Mortgage and Havenpark – among others – an opportunity to respond to the concerns raised by our reports and fact checks. We also contacted MHI's outside attorney.  All as of this time have opted not to comment, after repeated requests. Does their silence say something?
Every profession and every industry has some problematic people and operations in it. We spotlighted last year an exposé of a costly conventional housing builder. The same rule of do you homework applies to any kind of housing, not just manufactured homes and communities.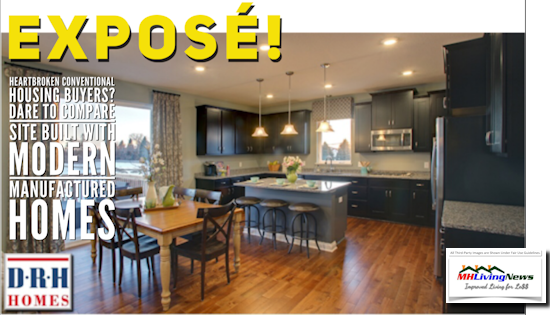 ·        Check a company's Better Business Bureau (BBB) rating.
·        Check their social media or elsewhere online for unanswered complaints.
·        Talk so some of their customers at random.
·        Do your homework here on MHLivingNews. 
There Are White Hat Manufactured Home Companies, Not Just Black Hats 
We'll draw towards a close with a video interview we did with happy home owner in a family owned business that on today's date had an "A" rating from the BBB. Keep in mind that we don't pay or reward any of those like the home owner below we have interviewed. This manufactured home owners previously owned a conventional home.  After carefully shopping, which he will describe in this video, he opted on a new ground set manufactured home. If someone didn't tell you it was a manufactured home, could you tell the difference? But the price was dramatically less for a new manufactured home than decades older conventional houses.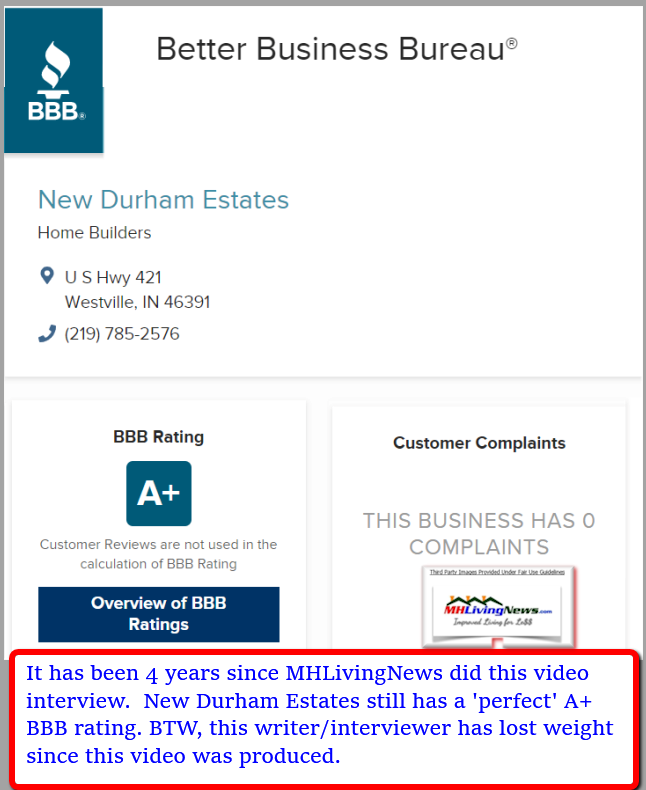 Manufactured homes can be a terrific option. As this video interview and BBB report reflect, a properly operated land lease community can be a good choice too.
Do Your Home Work, Or Else…
But if you fail to do your homework, you might discover that you could fall into a trap instead of a wonderful place to call home. So, buyer beware. Select the people you do business with caution. If you do, you will have good odds of having a home sweet home, instead of a nightmare.
Now you may better understand this mantra, "We Provide, You Decide." © ## (LifeStyle News, reports, analysis, fact-checks, and commentary. All third-party images and content are provided under fair use guidelines for media.)

L. A. 'Tony' Kovach is co-founder of MHLivingNews and MHProNews. He is a highly acclaimed industry expert and consultant, a managing member of LifeStyle Factory Homes, LLC, and is a 25 plus year award-winning manufactured home industry professional. Kovach earned the Lottinville award in history at the University of Oklahoma.
Related Reports:
Click on the hot-linked text-image boxes below to learn more.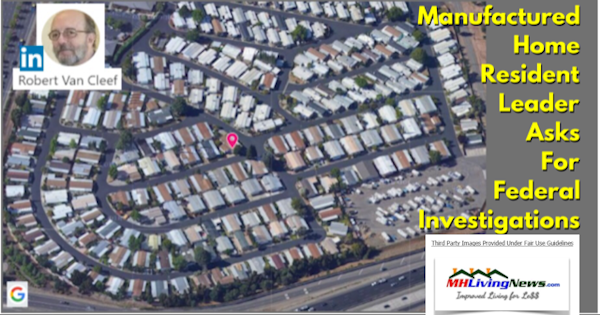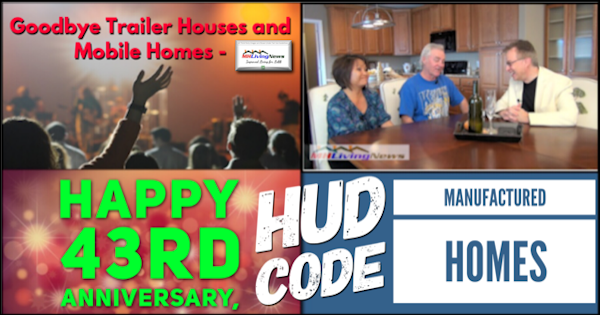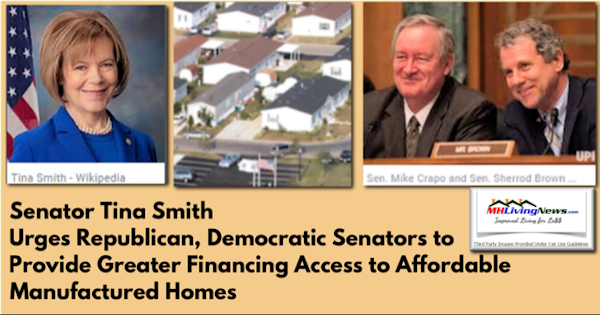 Washington, D.C., June 18, 2019 – The Manufactured Housing Association for Regulatory Reform (MHARR), in a June 13, 2019 communication to Fannie Mae Vice President Jonathan Lawless (copy attached), has reiterated its call for a congressional investigation into the failure of both Fannie Mae and Freddie Mac to implement the statutory Duty to Serve Underserved …