Californian Robert 'Bob' Van Cleef is involved in manufactured home resident advocacy. Bob and his wife sold their home and moved into a manufactured home. They enjoy their manufactured home, but were unpleasantly surprised by certain developments in their community.  That's when Bob stepped up to volunteer as community leader. 
He is active with the Golden State Manufactured-Home Owners League (GSMOL), which is likewise involved in resident advocacy. Van Cleef has his own website.
From a recent post by Van Cleef's found at this link here, is the following.  The post is styled "Requesting an Antitrust Investigation."
He cites and links several sources, including his representative, DoJ, HUD Secretary Ben Carson, John Oliver's viral video, the Manufactured Housing Association for Regulatory Reform, and Manufactured Home Living News, among others.  The hot-links below are in the original.
Requesting an Antitrust Investigation 
Posted on June 19, 2019 by Bob 
This is a follow up related to John Oliver's report on living in Manufactured Home Parks. In his report, he exposed the illegal and immoral actions, potentially violating Antitrust and RICO laws, by various companies.
     See:  HBO's John Oliver on Last Week Tonight Mobile Homes Video
One of the major threads of his report relates to the actions of Berkshire Hathaway, Clayton Homes, 21st Mortgage and the Manufactured Housing Institute. He shows them working in collusion to violate the law.  He also shows the harm that they are bringing to the people that live in the manufactured home parks they manage.   This includes many who are seniors, disabled and living on fixed incomes.
Request to Congress
Based on my research, after viewing that report, I sent an email to a staff member for Congressman Ame Bera, who represents the district I now live in, requesting the following actions.  
First, I asked that the Congressman write a letter to Makan Delrahim, the Assistant Attorney General responsible for overseeing the Antitrust Division.  The focus of his letter should be to ask the Antitrust Division to review the actions of Berkshire Hathaway, Clayton Homes, 21st Mortgage and the Manufactured Housing Institute for possible Antitrust and RICO violations.
The second request would be to have him contact HUD Secretary Carson to have his agency enforce the existing federal laws with respect to Federal Preemption and Affirmatively Furthering Fair Housing (AFFH). 
Finally, it would not hurt to supply for our Democratic Representative to reach out in a bi-partisan manner to support Secretary Carson's efforts to treat Manufactured Homes as an asset in today's housing crisis.
See:  HUD Secretary Ben Carson's Speech on Manufactured Homes, "Manufactured Housing…Active Ingredient…Medication…for a Stronger America."
Affordable Housing
Mary and I couldn't afford to live in San Jose anymore.  (We were economically evicted.)  However, after selling our heavily mortgaged home in San Jose, we purchased outright a manufactured home in Rancho Cordova.  I was amazed at the improvement of our quality of life!  The home was bigger and nicer than the one we left in San Jose.  Also, we found the new neighborhood to be open and welcoming, and best of all, it was affordable! 
Everyone is talking about affordable housing.  Based on my experience and as described by Secretary Ben Carson, manufactured homes could be a valuable tool for reversing our current housing shortage. 
Why can't more people take advantage of manufactured homes to get out of their housing trap?
That will be the basis for future posts.
##
The impression given is someone that has discovered a good thing, but sees a problem, and is striving to get to the root issues.
MHLivingNews will strive to stay connected to and monitor his efforts.  He reflects the views of many who care about their lifestyle.
"We Provide, You Decide." © ## (Lifestyle news, commentary, and analysis.) (Third-party images and citations are provided under fair use guidelines.)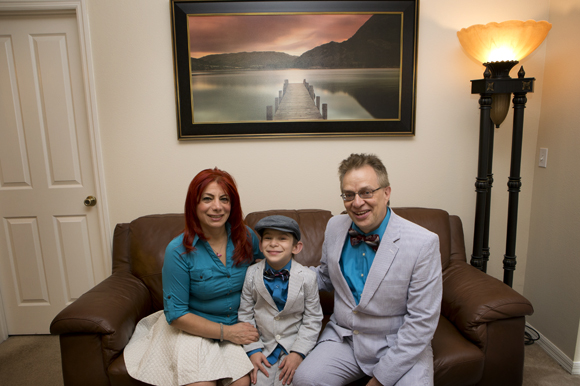 Soheyla Kovach co-founder of MHLivingNews, on left,
with son Tamas (pronounced like Tah Mash), and publisher L. A. 'Tony' Kovach, on the right.
Related Reports: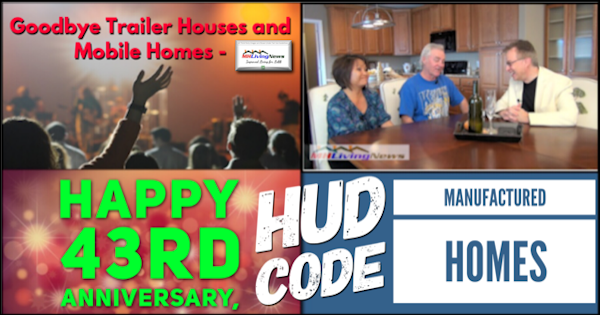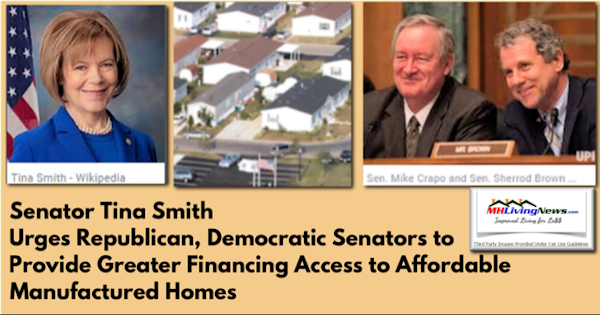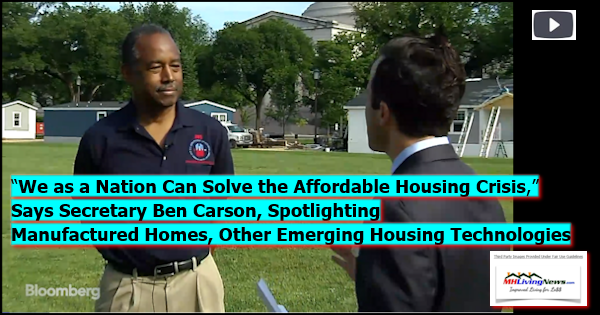 MHARR participated in a conference call on June 25, 2019, conducted by the U.S. Department of Housing and Urban Development (HUD), during which White House officials announced the impending issuance of an Executive Order (EO) to create a "White House Council on Eliminating Regulatory Barriers to Affordable Housing."
MHARR, based on numerous inquiries from industry members, has conducted a study and investigation of parallel bills introduced in the Senate and House of Representatives, entitled the "HUD Manufactured Housing Modernization Act of 2019." The Senate version of the bill – S. 1804 – was filed on June 13, 2019.