Manufactured homes come in a wide variety of shapes, styles and sizes that start from 400 square feet and ranging up to thousands of finished square feet. Many of these styles can been seen from our weekly featured homes photo gallery. Let's over-simplify and say that manufactured homes come in two broad categories – entry level and residential style homes, and then let's take a look at a brief description of both.
First, ALL manufactured homes have to meet tough federal safety and construction standards – known as the HUD Code for manufactured housing – that preempt all local building codes.  Insurance, government and other research has demonstrated that modern manufactured homes are safer against fires, lower cost to build or maintain and have lower energy usage that similar sized/configurations of conventionally 'on site' constructed homes. This holds true for entry level as well as residential style manufactured homes.
That said, what are the differences between these two styles of manufactured homes?
Entry level homes may use 'fit and finish' items that are less expensive than their residential style manufactured home counterparts.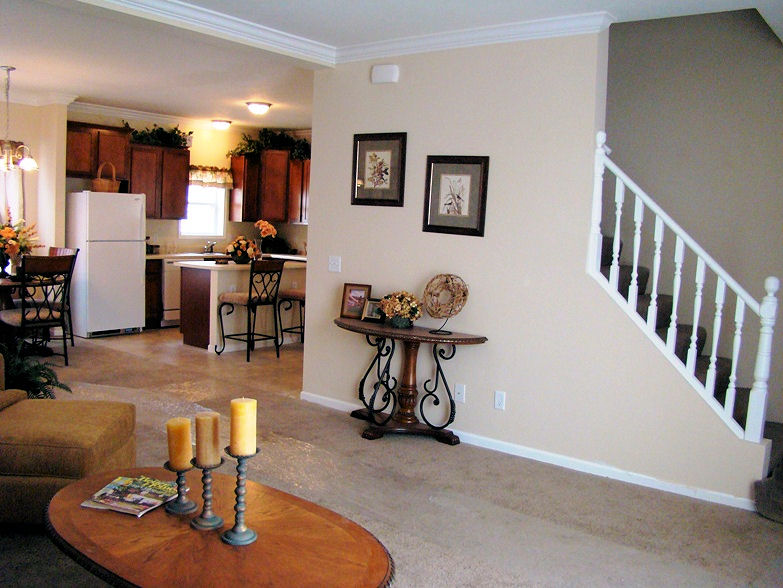 One of many residential styles of manufactured homes
9′ Ceilings – Crown Molding – Custom Merrillat Cabinetry
Two Story "Cape Cod" style
For example, just as some 'entry level' site-builders may use wrapped (MDF) cabinetry, so too may producers of entry level manufactured homes. Entry level manufactured homes may have:
84" or 90" sidewalls. When built in this fashion, these often have a 'cathedral' or peak ceiling to give the feel and look of more space.

Less expensive windows or doors (while still meeting all safety and energy standards).

VOG (vinyl over gypsum) interior walls with batten strips vs. fully finished drywall.
VOG walls and batten strips can be seen on some of the featured model homes, including this one linked here. You can find advantages to almost everything, and the advantages of VOG walls with batten strips include (but are not limited to) the following:
easy cleaning (these walls can cleanup with a cleaner like 409 and a sponge), because it has a wall paper like vinyl covering.

No need to paint (but can be painted if desired).

Lower cost (roughly $2500 to $4000 (+/-) less expensive than fully finished drywall models).

When you have less conditioned space to heat and cool, the result can be lower utility bills.
Most manufacturers today offer an 'upgrade' from VOG to finished drywall as an option.
Simply, Amazing!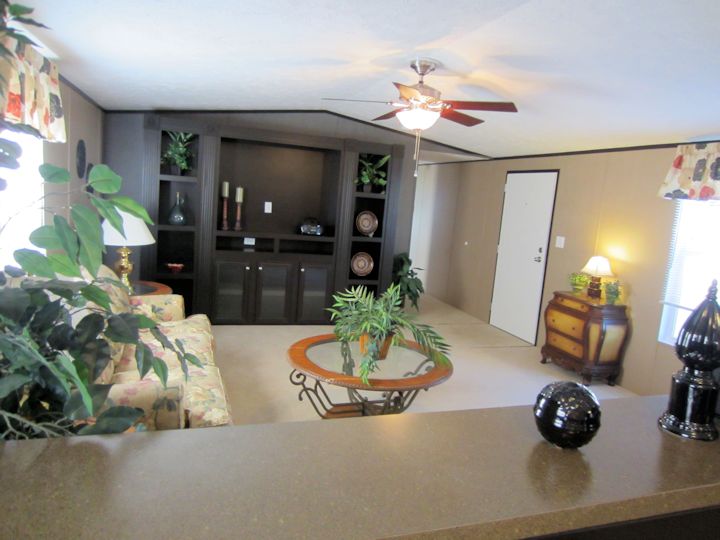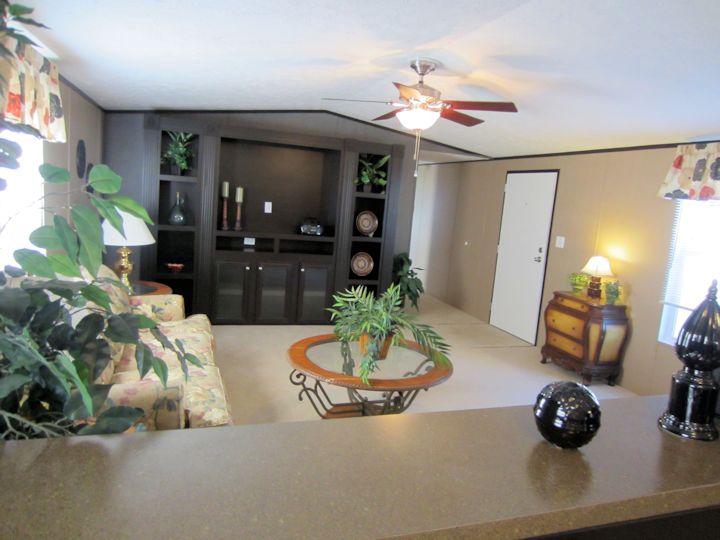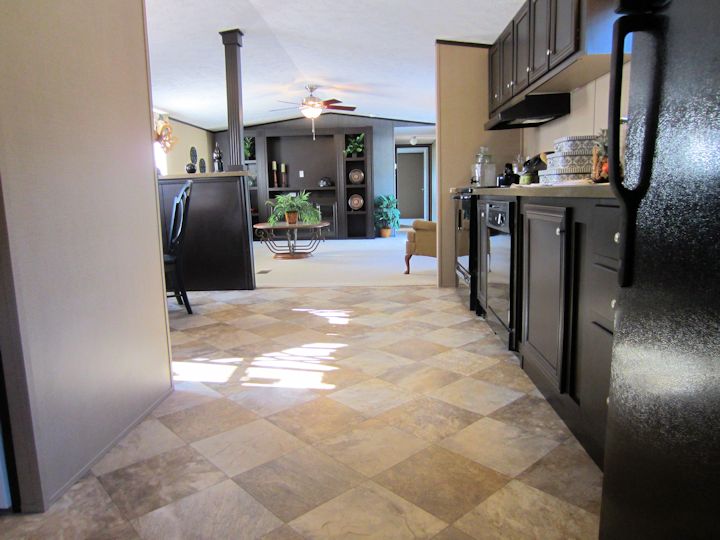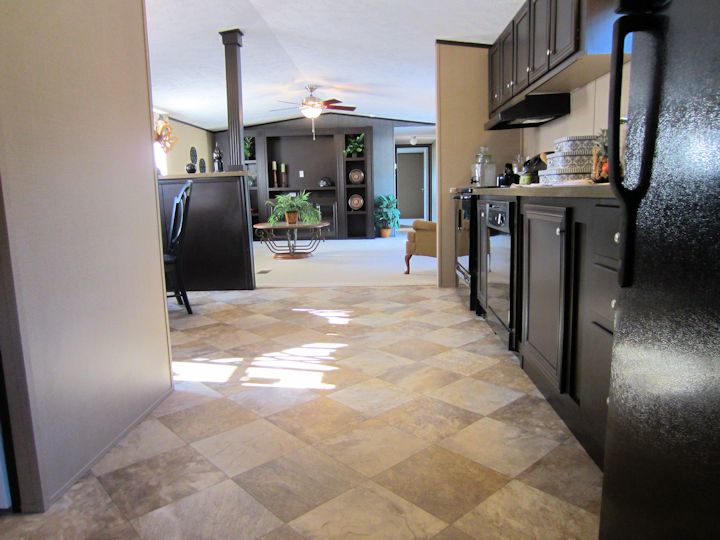 A well established, award winning retailer in Pataskala, Ohio provided the photos of this single sectional manufactured home that is approximately 1165 square feet. This 3 bedroom 2 full bath home features:
built-in entertainment center living room cabinetry

galley style kitchen

separate dining area off kitchen

easy clean, VOG walls

energy saver package

kitchen appliances and much more.
Installed on a home site with central air conditioning, this model sells in the mid-to upper 30s. That works out to be less than $35 per square foot for a permanent home with full warranties and ready to live in!  Simply, amazing!
Comparing…Just Imagine…
With a short term (15 year) loan with good credit at current rates on a home site leased for around $320 monthly, you could live in a home like the one shown in the photos above for about $650 a month, principle and interest (insurance or other escrows can make this higher). That makes it considerably lower in cost than most new, rented 2 or 3 bedroom apartments in nearby Columbus, which may go for $900 to $1200 a month.
Obviously, someone could also place this home on a purchased site, so the 'land lease' manufactured home community option shared above – while popular in many areas – is one of a variety of siting options available for a home buyer.
Are single sectionals all entry level?
While some think that all single-section manufactured homes 'must be' entry level, this is not true!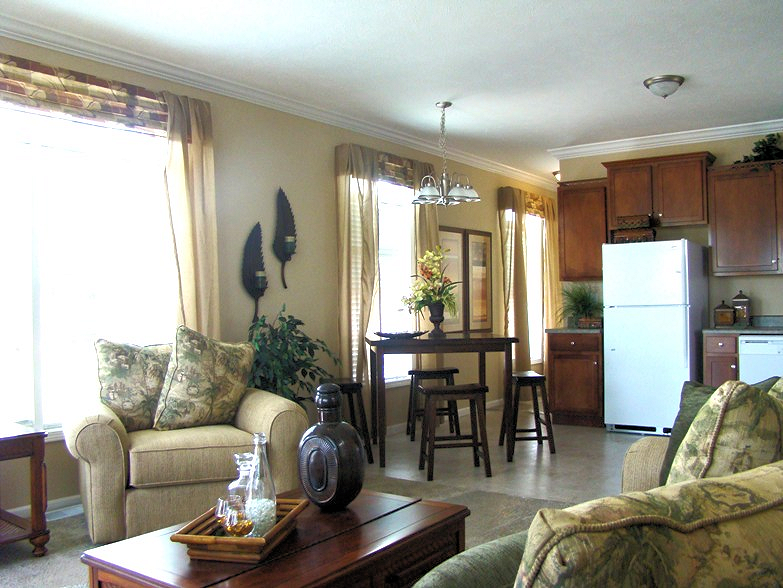 You can see more photos of a single section, residential style manufactured home in our featured home photo gallery here, and this video is of a single section ("single wide") residential style manufactured home.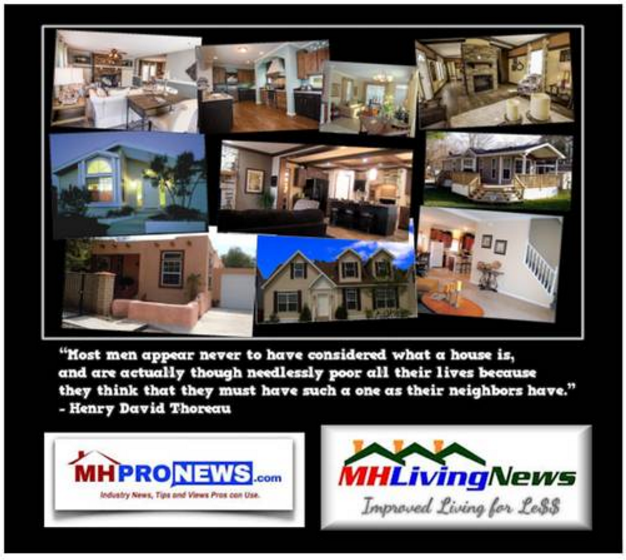 Modern manufactured homes can be:
ranch style

multi-level (Cape Cod, two story, etc.)

installed over a full basement

can include a garage, carport, etc.
As the popular video report linked here demonstrates, a manufactured home rivals conventional construction in durability, even in severe weather. So durability, safety, energy savings aren't sacrificed when you, family or friends invest in a modern manufactured home.
As more and more people discover and realize the incredible value, durability, safety, energy and costs savings that modern manufactured homes offer, this will fuel the already rising demand for America's quality, appealing and affordable factory-built homes. ##