Some 245 years ago, American independence from England was formally declared. That makes this July 4, 2021 America's 246 birthday. With that in mind,  CrownLyric and the official Toby Keith YouTube video below was posted on July 1, 2021. They provided these lyrics to "Happy Birthday America" with an apparent subtitle, "It's the 4th of July." It will be followed by Keith's "Double Wide Paradise," related images, information and a brief Mobile and Manufactured Home Living News (MHLivingNews) commentary.
Toby Keith – Happy Birthday America Lyrics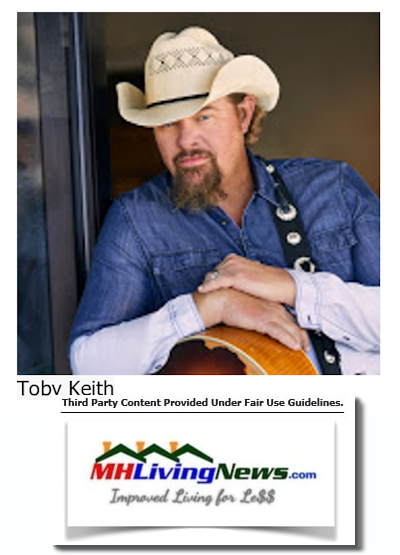 Happy birthday America
It's the 4th of July
I get to wake up in your freedom
But sometimes I wonder why
Seems like everybody's pissin'
On the red, white and blue
Happy birthday America
Whatever's left of you
You were the darlin' when you saved the world
WW I and II
France would just be part of Germany now
If it hadn't been for you
Now your children want to turn you in
To something other than yourself
They burn your flag in their city streets
More than anybody else
Happy birthday America
It's the 4th of July
I'll get to wake up in your freedom
But sometimes I wonder why
Seems like everybody's pissin'
On the red, white and blue
Happy birthday America
Whatever's left of you
Who they gonna count on
When you're not there to take their call
Will the world keep right on spinnin'
Without the greatest of them all
Without the helping hand of God
Your days are numbered my old friend
We're sure gonna miss you girl
You were the best that's ever been
Happy birthday America
All the broken-down cities
By the left's design
And the right can't seem to get it right
Most of the time
Every time I go to town and vote
I just come home with the blues
The lesser of two evils
All we ever get to choose
Happy birthday America
It's the 4th of July
I'll get to wake up in your freedom
But sometimes I wonder why
Seems like everybody's pissin'
On the red, white and blue
Happy birthday America
Whatever's left of you
Happy birthday America ##
###
Here is Toby Keith's – Happy Birthday America (Official Lyric Video), posted on July 1, 2021.
When Keith laments the left that are selling out and "pissin' on the red, white, and blue" think about these leftist billionaires who the evidence and documentation shown below reveals have been stealing the American Dream.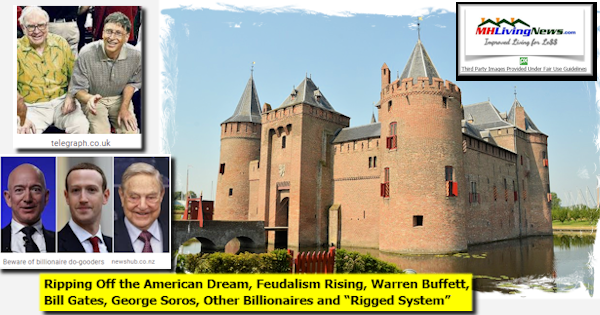 Which leads us to Keith's fascinating "Double Wide Paradise."
Double Wide Paradise
Lyrics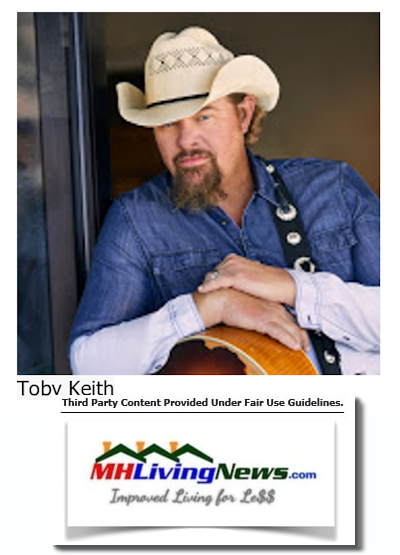 I don't want to cry
I don't want to walk the floor
This mobile home
Don't feel like home no more
Since you left tell me what else can I do
Just come back home
Forgive me and forget it
This bed I made
I'm tired of sleepin' in it
It's freezin' cold, and baby that ain't cool
I'm waitin' on you
Here at the ponderosa trailer park
There wasn't nothin' that could keep us apart
Then I broke your heart, in our
Double wide, double wide, double wide paradise
Come on back to our double wide paradise
Double wide, double wide paradise
I bought a swimmin' pool
From the man at Sears
He put it together
I filled it up with tears
Can't find no happiness no matter what I do
Just 'cause I got
The treasures of the world
It don't mean nothin'
If I ain't got you girl
Inside my castle
I got the king size blues
I'm waitin' on you
So baby when you get to feelin' alone
You know I always leave my porch light on
So you can come back home, to our
Double wide, double wide, double wide paradise
Come on back to our double wide paradise
Double wide, double wide paradise
We can have a second honeymoon
We'll throw some ribs on the barbecue
Just like we used to do
Double wide, double wide, double wide paradise
Come on back to our double wide paradise
Double wide, double wide paradise ##
Source: Musixmatch
Songwriters: Billy Maddox / Paul Wayne Thorn
###
The video below was provided to YouTube by Universal Music Group and is the official version of the Double Wide Paradise by Toby Keith.
Before pivoting back to the 4th of July and fixing America, for those who want to get a unique look at mobile and manufactured home living, see the music video and related report linked below. It is fun as well as packed with insights. For more details on the proper terminology for factory built homes, click here.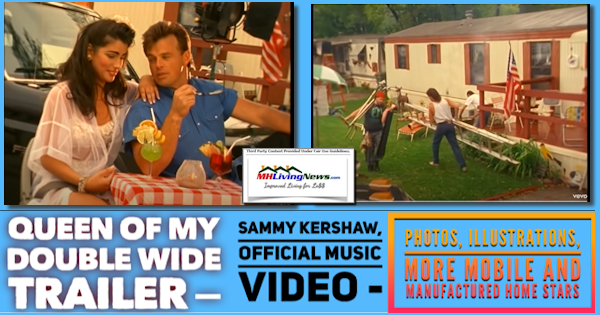 Despite all of the "pissin' on the flag" that Keith laments, America is still among the happiest places on earth, according to this global survey below. Imagine how much happier millions of people might be if so many 'on the left' weren't belittling their own country?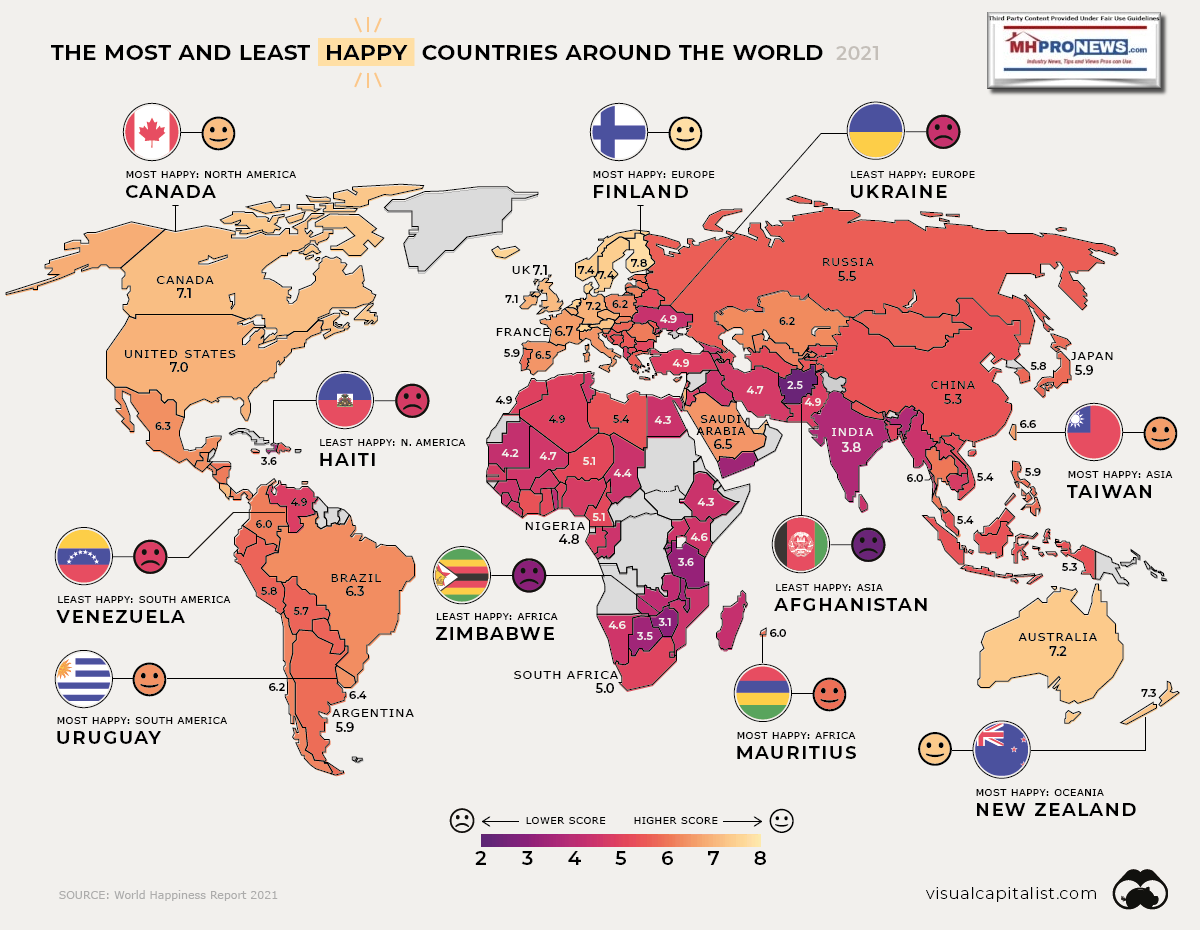 In fairness, while the left and their billionaire backers routinely rips the country, there are numbers of Democrats that are not radical socialists. As Senator Marco Rubio aptly put it (correcting the tweeted lower-case typos), "Not every Democrat is a Socialist, but every Socialist is a Democrat."
Not every democrat is a socialist

But every socialist is a democrat

— Marco Rubio (@marcorubio) November 1, 2020
To Keith's point about more conservative – and pro-flag – political "right" messing up too, perhaps the sharper way of framing that is that the billionaire class has been buying off politicians in both major parties.  That is not a fantasy. Warren Buffett and his billionaire buddy Charlie Munger have said as much. This quote from Buffett below is from a June 30, 2021 video interview with CNBC.
"Wall Street figured out how to get around that." – Warren Buffett.
"They lobbied through changes in the law." – Charlie Munger.
"Yeah." – Warren Buffett, agreeing with Munger.
…
"Well, the regulators aren't [regulating properly]." – Charlie Munger. Munger shifted the focus to a "need to change laws now." But that misses the point that Buffett and Munger both know. Namely, that the various late 20th and early 21st century scams that the billionaire class has gotten away with have been accomplished despite regulators and laws meant to stop them.
What the folks who protested during "Occupy Wall Street" movement often missed was that it is routinely leftist billionaires that have been screwing up the system and "pissin' on the flag" i.e. the people of our country. Billionaire Nick Hanauer made relevant points on this years ago.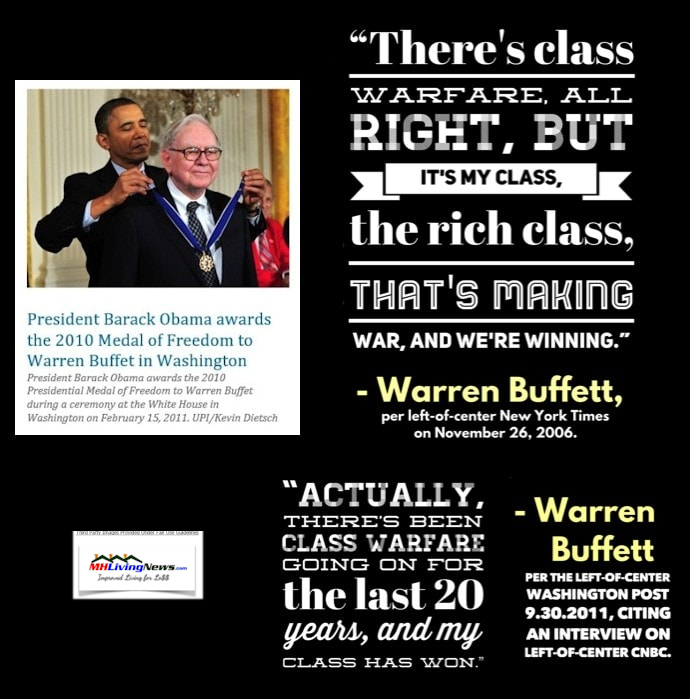 What folks on the right have routinely missed is that just because someone is a billionaire doesn't mean that they earned their wealth honestly. But others earn it by manipulating the system in their favor. The Academy of Ideas (AoI) puts it like this. "These two routes can be referred to as pure [free] market entrepreneurship and political entrepreneurship."
AoI adds this keen insight. "In contrast to the pure [free] market entrepreneur who must satisfy the consumer to obtain large amounts of wealth, political entrepreneurs obtain their fortunes by using the power of the state. This is done in a myriad of ways, including subsidizations or bailouts which amount to transfers of wealth from the masses to the connected few, or the creation of regulations and laws, which benefit established firms at the expense of potential new entrants. A further blatant, but sometimes overlooked way that political entrepreneurs obtain their wealth is by using government to pass and enforce laws to ban the sale of entire classes of goods."
That sums up nicely points that have similarly been made in the quotes shown.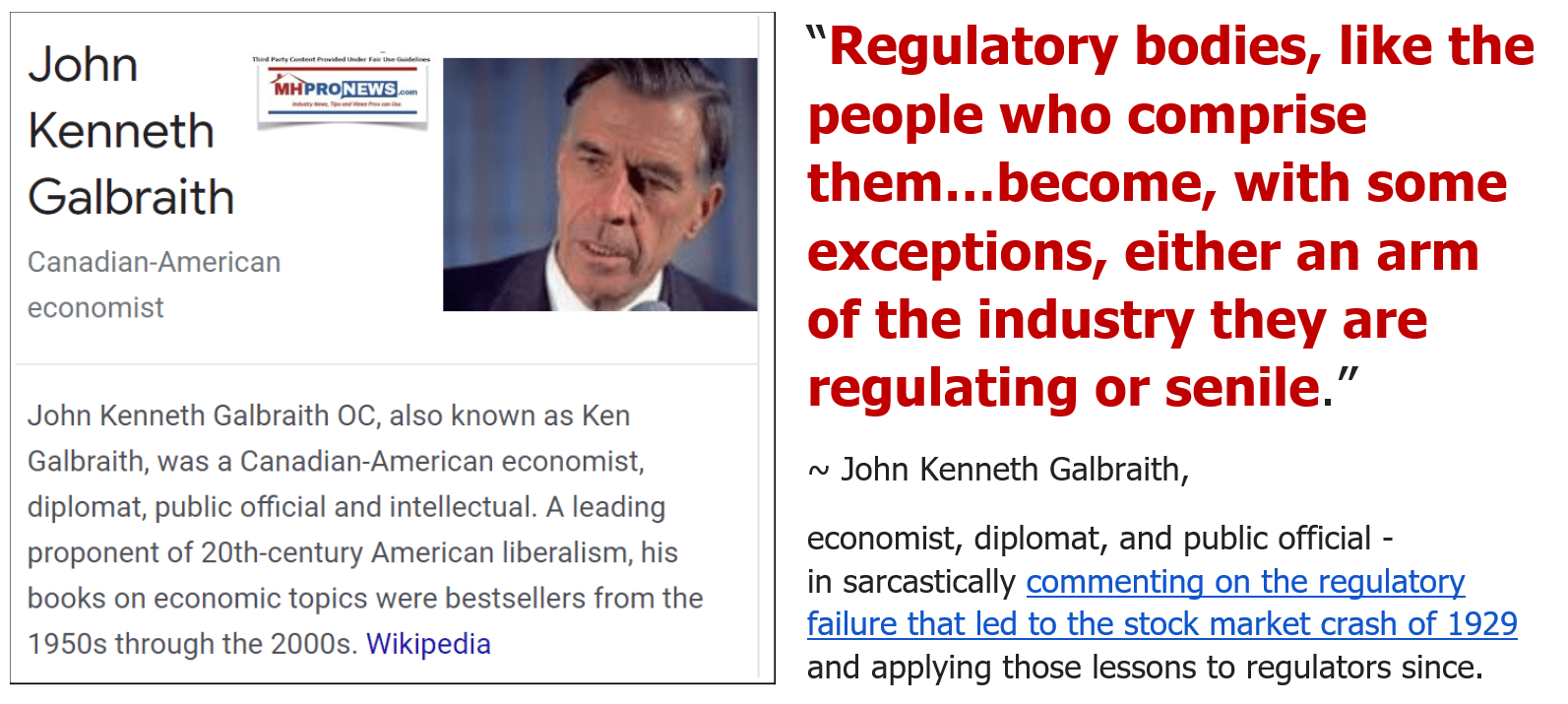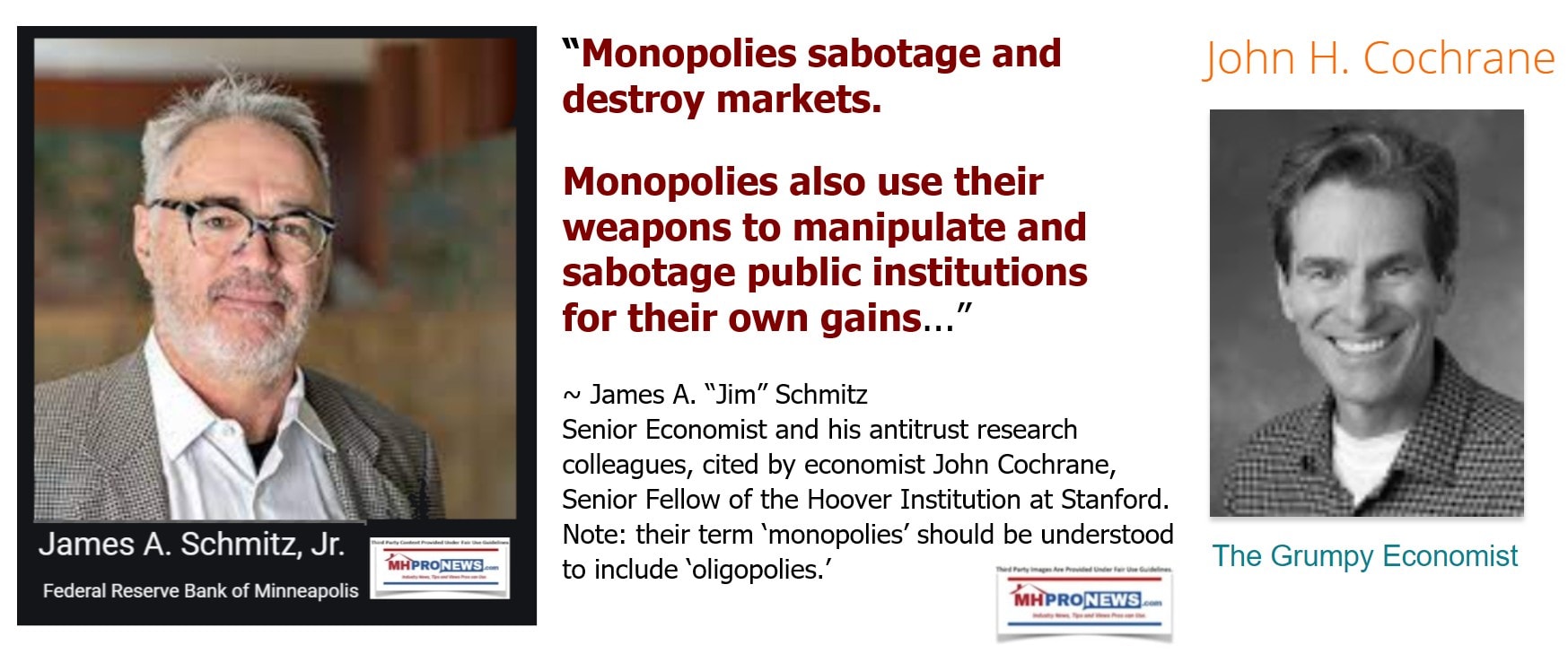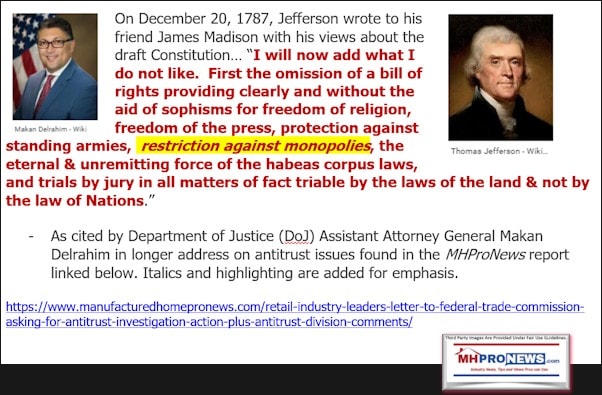 Buffett, Munger, and others in the billionaire class have been playing divide and rule for years. They use campaign donations to buy influence in both major parties. Not everyone in politics plays that game, but many have and do. If favors are going to the few, that's a warning sign.
AoI in that same article noted that: "Some may think that the existence of political entrepreneurs justifies taxes on the rich, but a much better solution would be to eliminate the ability of governments to enrich the political entrepreneurial class in the first place. For it is not the rich per se that are the problem, but the ability to get rich by using the power of the state instead of by serving the needs of others." Quite so. Does anyone seriously believe that Warren Buffett wants to pay more taxes, even though he has said as much many times? Obviously, not. He gives money to foundations and nonprofits that carry out his bidding, which gives him a tax break that simultaneously routinely furthers his business interests.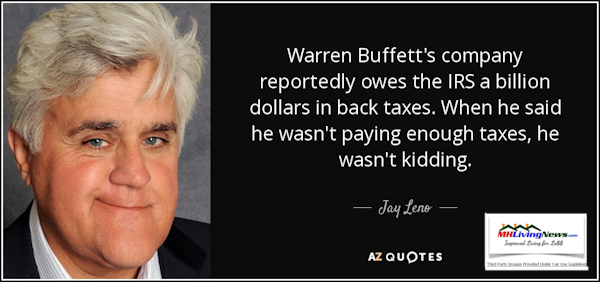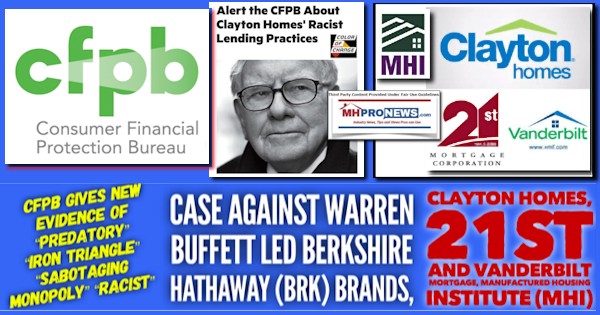 The threat of more taxes is driving more consolidation in manufactured housing. Those who illicitly became rich by being "political entrepreneurs" know how to get around tax and regulations things. Munger suggested as much in his musing about how "Wall Street" lobbied their way around existing regulations.  What Buffett and Munger did not say explicitly is the obvious. They are part of Wall Street. They have done the same too.
This clever series of head fakes and slippery language has allowed the largely leftist allied billionaire class to increasingly get their way. So-called donations from Buffett and Gates helped fuel Antifa and Black Lives Matter, as the report linked below documents.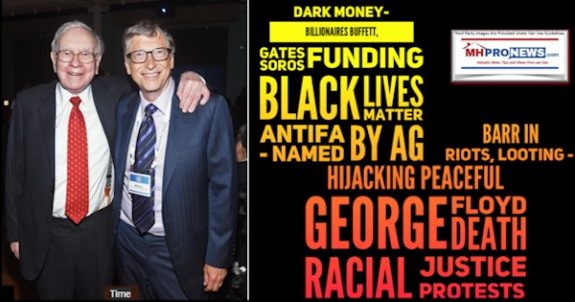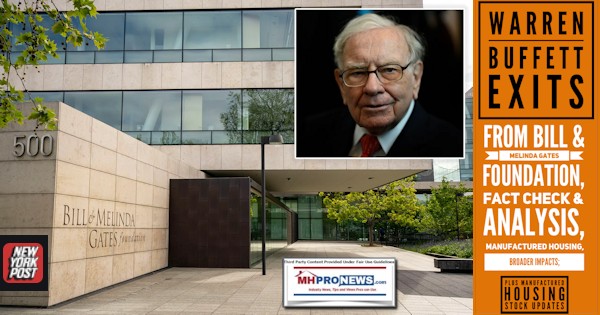 What can be done? First, like his style or not, President Donald J. Trump was hated by these people. As proof, billionaires collectively spent billions in cash and resources in their 2020 effort to get him out of the White House. As a billionaire himself, President Trump championed causes and policies that helped the common man, such as cutting off as much illegal immigration as possible.  Wages rose and home ownership rose during his 4 years in office. It is an open question what will happen next with the 45th president, but he and those that the hard-left billionaires oppose are routinely the ones that merit support.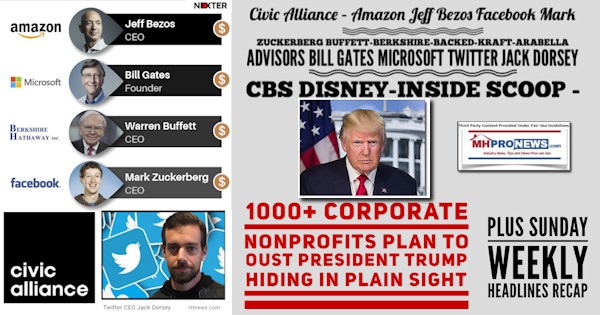 The ripping off of millions from their part of the American Dream has been cleverly arranged by people precisely like Buffett and Munger. To learn more, see the related and linked reports.
In the meantime, Happy 245th Birthday America. The good news is that whatever is wrong in America can be fixed by what's right in America. You don't have to agree with former President William Jefferson "Bill" Clinton to see that wisdom and truth of that statement he made. Equally important, is this from Buffett's close longtime partner, Munger: "One thing we've learned is, if it's clear that something is a mistake, is to fix it quickly. It doesn't get better while you wait." Quite so. The many can beat the money. But first more Americans have to understand how the system has been rigged, and then organize to stop the rigging of the system. Sharing reports like this can be a start. Then, look at what WND shared with their readers in the link below. Share both the link below and the link to this article with your circle of influence.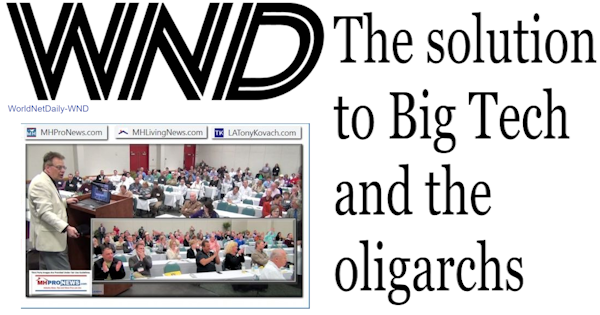 The good news is that the laws needed to stop the bad things that these leftists billionaires do already exist. We the People must insist that lawmakers and regulators do what the law calls for, instead of them lining their own pockets while the line the pockets of political entrepreneurs. It is time for the next American Revolution – which can be a peaceful one – against the billionaires and their political cronies. The right information, with the right legal action can defeat these people at their own perverted game.  There is work to be done. Let's do this. ##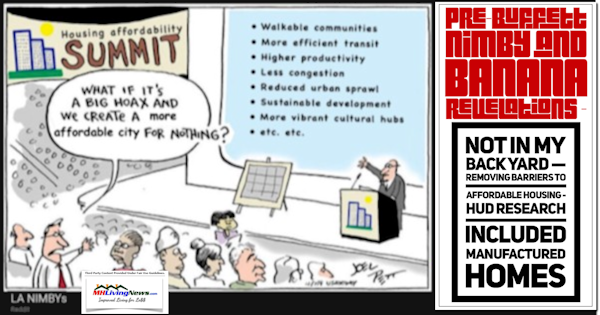 ###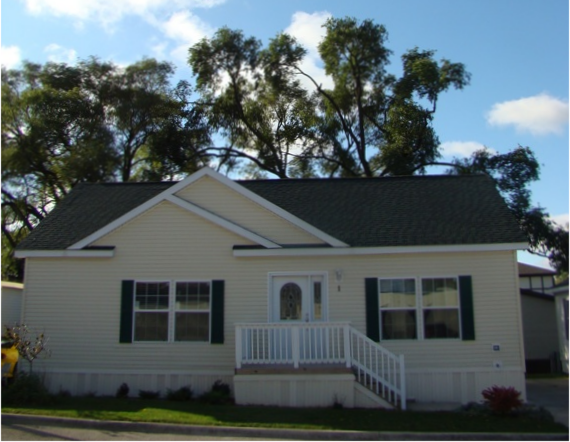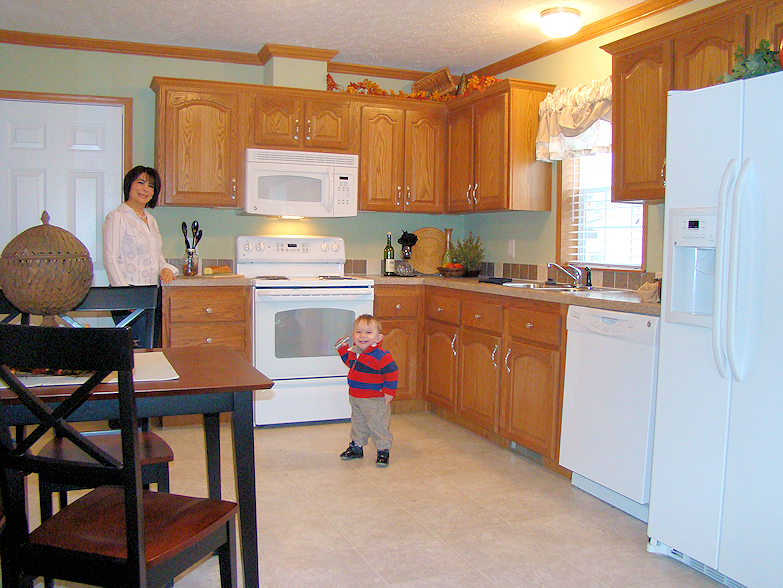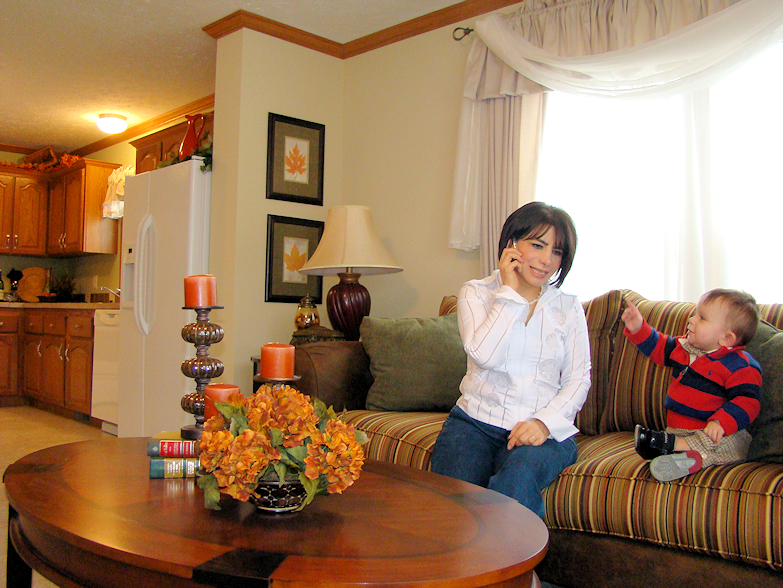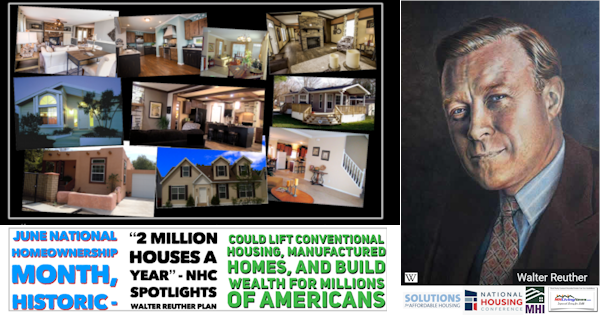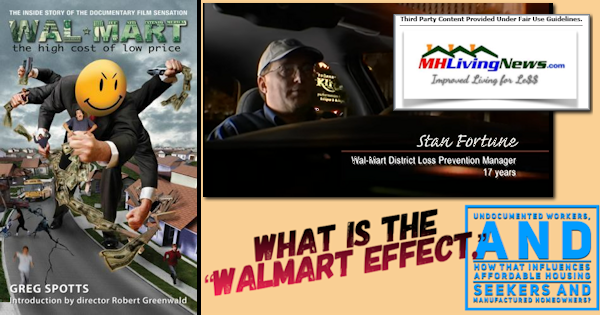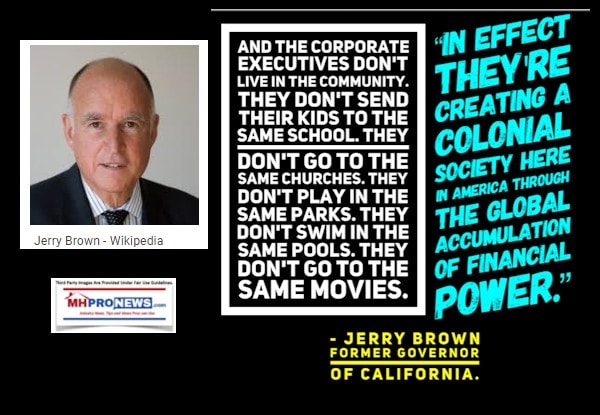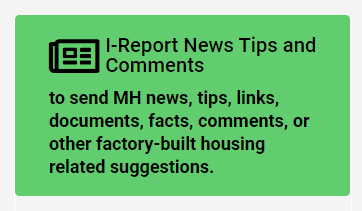 We lay out the facts and insights that others are too lazy, agenda driven, or are otherwise uninformed to do. That's what makes our sister site and this location the runaway leaders for authentic information about affordable housing in general, the politics behind the problems, and manufactured homes specifically. That's a wrap on this installment of "News through the lens of  manufactured homes and factory-built housing" © where "We Provide, You Decide." © ## (Affordable housing, manufactured homes, reports, fact-checks, analysis, and commentary. Third-party images or content are provided under fair use guidelines for media.) (See Related Reports, further below. Text/image boxes often are hot-linked to other reports that can be access by clicking on them.)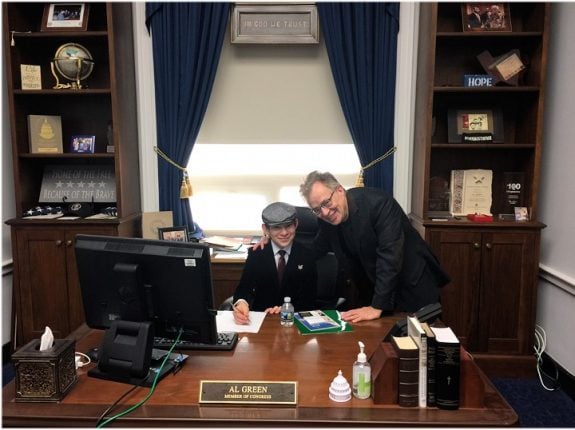 By L.A. "Tony" Kovach – for MHLivingNews.com.
Tony earned a journalism scholarship and earned numerous awards in history and in manufactured housing. For example, he earned the prestigious Lottinville Award in history from the University of Oklahoma, where he studied history and business management. He's a managing member and co-founder of LifeStyle Factory Homes, LLC, the parent company to MHProNews, and MHLivingNews.com. This article reflects the LLC's and/or the writer's position, and may or may not reflect the views of sponsors or supporters.
Connect on LinkedIn: http://www.linkedin.com/in/latonykovach
Recent and Related Reports:
The text/image boxes below are linked to other reports, which can be accessed by clicking on them.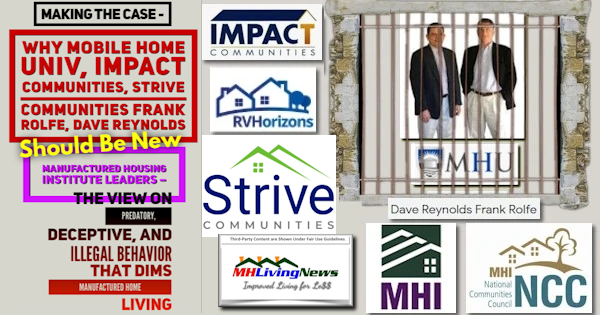 https://www.manufacturedhomelivingnews.com/making-the-case-why-mobile-home-univ-impact-communities-strive-communities-frank-rolfe-dave-reynolds-should-be-new-manufactured-housing-institute-leaders-the-view-on-predatory-deceptive/