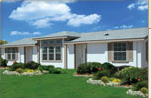 RV News tells MHLivingNews that Cavco Industries, Inc. will be featured on the Science Channel's "How it's Made" Dec. 13 at 9 PM EST.
Focusing on factory-made housing, the model home displayed will have solar panels on the roof, prototype backup propane generator, recycled lumber composite decking, on-demand water heating, as well as an energy efficient heating and cooling system.
Tim Gage, vice president of Cavco's park models, cabins and specialty products says, "We see this as a great opportunity to showcase not only the quality, but the environmentally friendly nature of factory built housing."
Cavco is the second largest producer of factory-built manufactured and modular homes in the United States.
(Photo credit: Cavco Industries, Inc.)