"There is no better demonstration of what today's manufactured home building industry is then walking through a modern production center in full operation!" exclaimed D. J. Pendleton, Executive Director of the Texas Manufactured Housing Association (TMHA). Pendleton was part of a delegation that included Congressman Bill Flores of Texas, who toured a Fleetwood Homes building center near Waco on June 2, 2014.
"When one sees homes being constructed against the backdrop of highly skilled labor, quality materials, controlled efficient environments – along with hearing the sounds of nail guns firing and power saws doing precision cutting, it all leads to the undeniable truth – we are building appealing homes."  Pendleton said.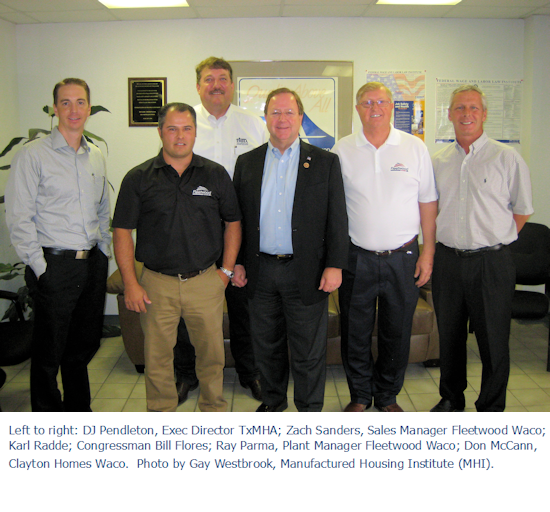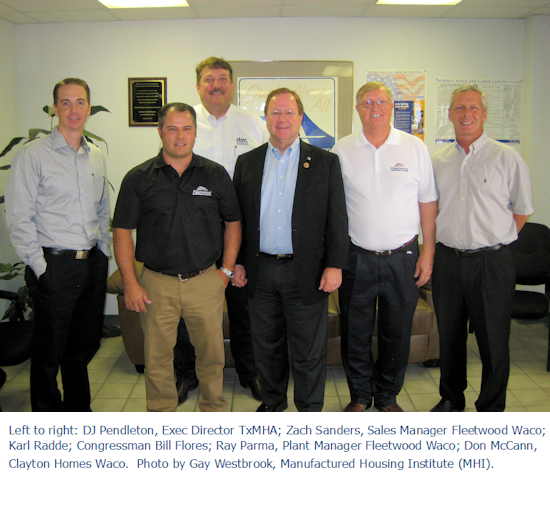 "When Ray Parma told Congressmen Bill Flores they are running nine floors a day, the impressed look of a pleasant surprise on the Congressman's face was unmistakable," stated Pendleton, as he described the tour of a Fleetwood home building center in Waco, TX. Parma is the plant manager.
It should be noted that a manufactured home under construction actually spends several days "on-the-line," but the average daily production is often described as floors, modules, sections or homes-per-day. As with almost everything used in America today – cars, clothes, cell phones, computers and more – manufacturing allows for precision, quality, time and cost savings.
That combination of time and labor savings, 30% less wasted materials, climate controlled construction is why a manufactured home can cost far less than on-site building, without sacrificing quality. What requires months to build on location, can be finished in a fraction of the time with manufactured home-building.
Congressman "Flores was very engaging of plant manager Ray Parma; the congressman asked questions during the plant tour about everything from…camber, to shear-wall design and how it impacted tie-downs." said Karl Radde, general manager of Southern Comfort Homes of Texas and the current Chairman of the TMHA. "I could just see Ray's eyes gleaming as he shared his many years of experience at the plant. It was a pleasure to all."
Radde stated that "Representative Flores met with all of us after the plant tour and discussed not only Dodd-Frank legislation and the CFPB, but also things that affect manufacturing facilities such as OSHA inspections and health care for employees.  It was good to see friendly competitors coming together to express concerns to the congressman."
Gay Westbrook, Vice President, Political and Public Affairs at the Manufactured Housing Institute (MHI) explained the value to hosting such tours of modern factory built home production facilities.
"By highlighting exceptional homes, jobs and the economic contribution that manufactured housing provides, plant tours deliver an unforgettable reminder about why it's so important to preserve access to financing for home buyers seeking affordable, quality manufactured housing." Westbrook stated.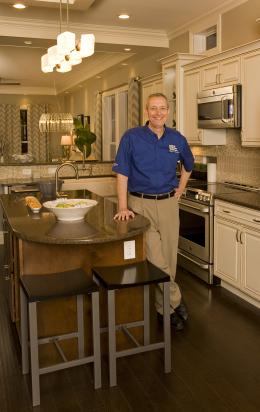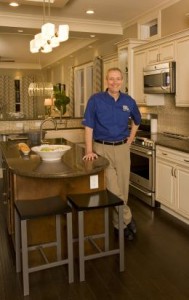 Radde elaborated by saying that the Fleetwood and Clayton home building centers in the Waco area directly support 750 jobs. In addition, there are a similar number of additional jobs sustained because of supply materials and services rendered to those production plants.
Of course the home buying consumer is at the heart of such stories. They are the ones who benefit from living in a quality, energy efficient home that is built for a lifetime of comfortable, affordable living.
Radde thanked Cavco CEO and Chairman, Joe Stegmayer (shown standing in a kitchen in the photo) for making the tour possible.
Pendleton shared a common comment heared when tours like this are given to public officials, home shoppers or others. "Oh, this looks just like a site-built house. It looks great!" But more than just looks, "Because of the strict federal safety and construction standards, these homes are actually proven to be greener, less costly to build or maintain, safer against fires and are just as durable as conventional construction," Pendleton said. ##
By L. A. "Tony" Kovach, ManufacturedHomeLivingNews.com.