36 miles south of Pittsburgh and 55 miles east of Wheeling, OH on I70 is picturesque Belle Vernon, PA. This rural area in Western Pennsylvania may seem like an unusual place to open a new, regional manufactured home retail center. But as executives at rising star UMH Properties know, this is one of the places in the U.S. where the shale energy boom is creating demand for homes that can best be met with manufactured and modular homes.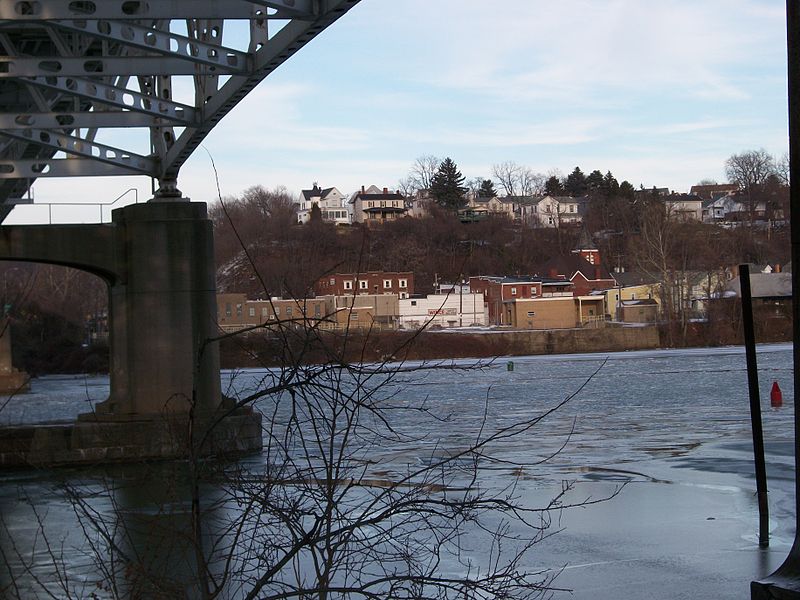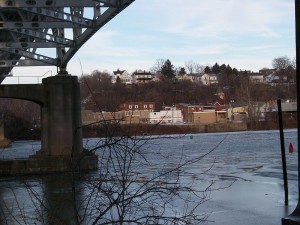 Belle Vernon, PA, as seen from across the
Monongahela River, photo credit, Wikipedia.
On a recent conference call with investors, Samuel "Sam" Landy, President and CEO of UMH Properties, Inc. said: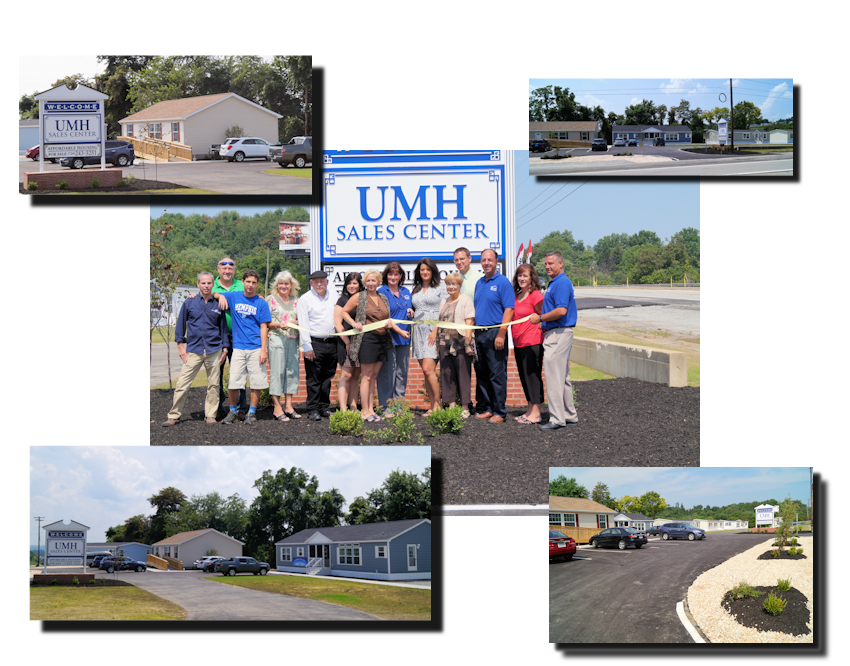 Ribbon cutting at Port Royal regional sales center,
Belle Vernon, PA, in center of the photo collage.
"UMH continued to execute its growth strategy of purchasing well-located communities in our target markets, including the energy-rich Marcellus and Utica shale regions…Additionally, over the past four years, we have more than doubled our portfolio by acquiring 60 communities totaling 8,300 developed homesites. Our portfolio is now comprised of 88 communities with 15,100 developed homesites in seven states."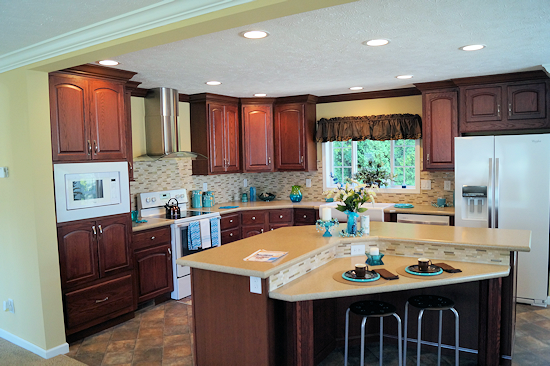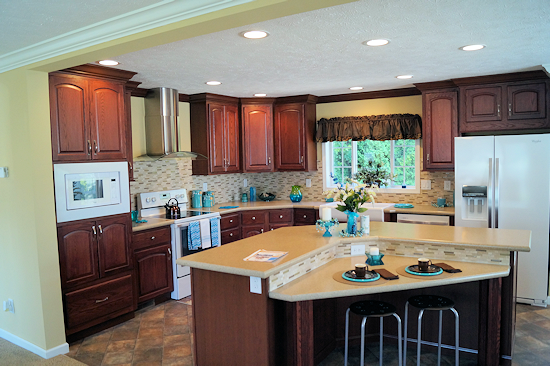 3 Interior photos of a decorated UMH model home, followed by
the exterior of this same model.
But what about those customers who may not live near one of UMH's 88 land-lease communities? Letting action rather than words answer that question, UMH has opened this retail sales center which could serve those moving to a UMH community, as well as those going onto private property. There is speculation that other new home sales centers may follow in other locations. Of course this respected real estate investment trust (REIT) already offers new and pre-owned homes for sale in many of their community locations that are installed and move-in ready.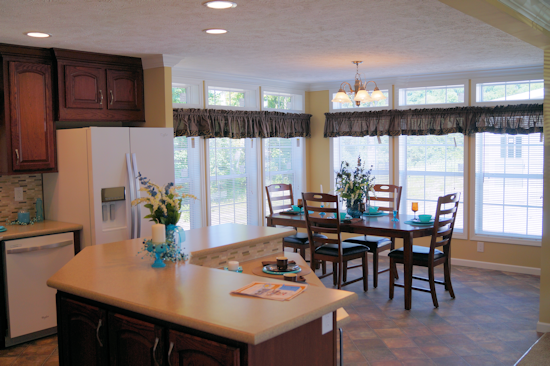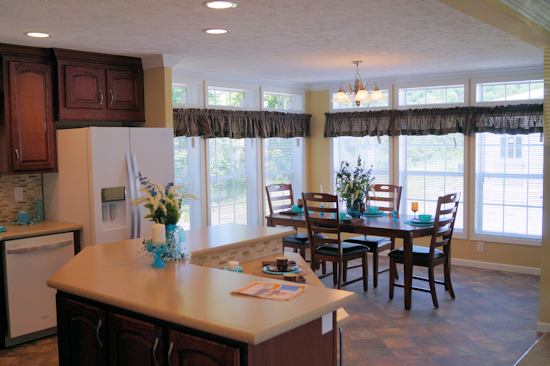 Bob VanSchuyver Jr., Assistant V.P. Sales, told MHLivingNews that:
"The UMH Sales center is located directly in front of Port Royal Village on State route 51 and interstate 70, approximately 40 miles southeast of Pittsburgh. Port Royal is one of our largest communities, 465 home sites with excellent amenities, including swimming pool, community center and play ground. The community and the expansion are visible from the new regional sales center. In addition, the sales center is centrally located to our existing PA communities as well as our recent acquisitions in the Marcellus shale region. This business model will allow potential buyers from all of our surrounding communities to come and view the latest floor plans from 3 of the areas top manufactured home builders."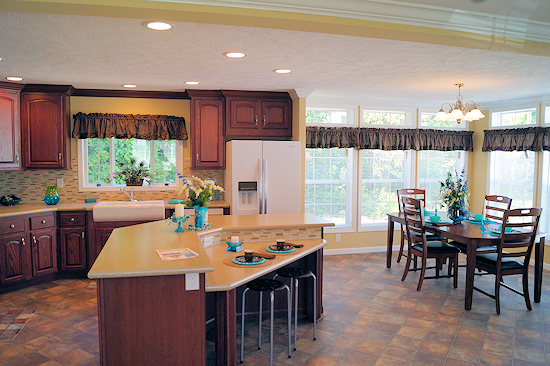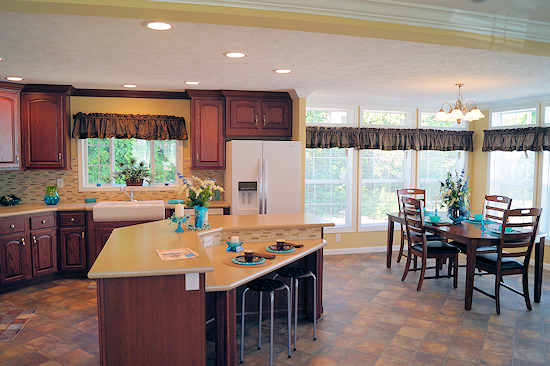 A quick check at press time revealed that the UMH Properties Facebook page has 5,295 "likes." This dovetails with studies, such as those done by Foremost Insurance, that shows strong satisfaction by manufactured home owners.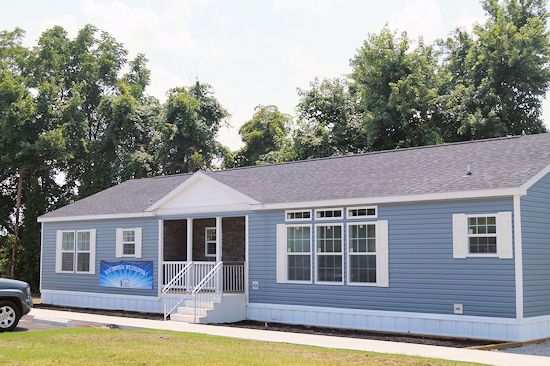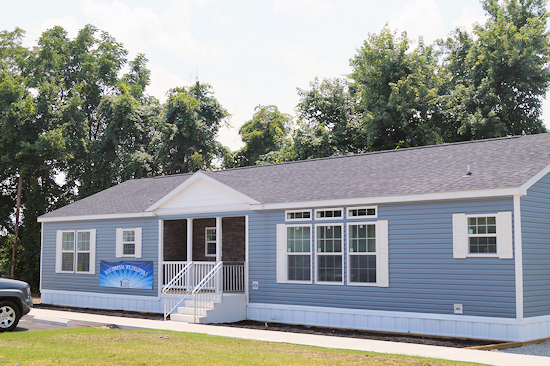 First time visitors should note that there are a variety of foundation enclosures possible,
besides what is shown on the model home above. Discuss the type of installation and enclosure
that makes sense for your location, taste and budget with a MH retail professional.
Lloyd Black, Marketing Manager for Eagle River Homes, stated "I have been in the Manufactured Housing Industry in the Northeast for over twenty years. This new UMH Sales center is among the finest I have ever been associated with.  The model homes are done as professionally as I have ever seen, as is the layout of their Sales Center.  Congratulation to the UMH team for a job well done. We at Eagle River Homes are proud to be part of this exciting and growing company."
The grand opening and ribbon cutting at the new center included members from the Rostraver township Chamber of Commerce and the Rostraver Township Board of Commissioners. Patrick Egros, board Chairman presented a letter welcoming the UMH Sales Center to Rostraver Township. The response from attendees was very positive.
VanSchuyver said: "There are dedicated UMH Team members that have worked countless days and hours to open this unique state of the art sales center. These included:
Chris Sliwinski Regional Manager

Jackie Sandoe Sales Manager

Jeff Yorick V.P Engineering

Jeff Wolfe V.P. Operations
among others." Sam Landy added, "We are so proud of the UMH team for creating and opening such a beautiful sales center. Thanks!" ##

By L. A. "Tony" Kovach