Leonard "Lenny" Kopowski, Director of Government Affairs, LMHA, was honored with the Jim Moore Excellence in Communications Award presented by the Manufactured Housing Executives Council (MHEC)  during the Manufactured Housing Institute's 2013 Annual meeting held recently in La Costa, CA.
In Kopowski's role for the Louisiana Manufactured Housing Association (LMHA), Lenny used a three step, "outside the box" public relations campaign geared towards challenging decision maker's and public official's negative and outdated views of the manufactured housing industry.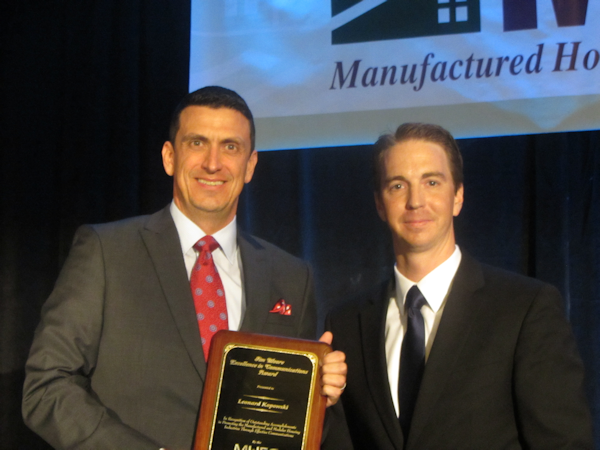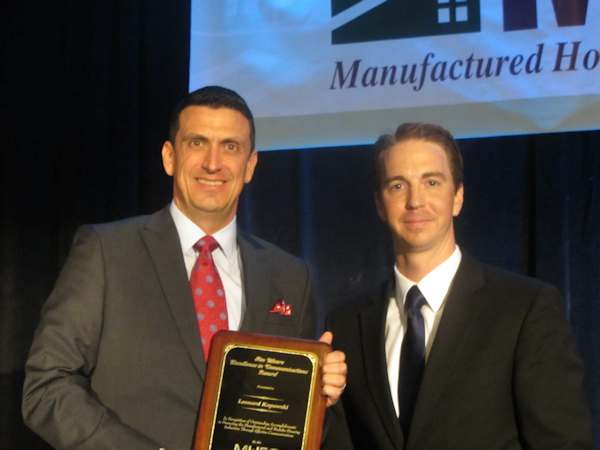 Leonard "Lenny" Kopowski, receiving the Jim Moore
Excellence in Communications
award from MHEC Chairman, DJ Pendleton
The first step in the campaign was an endowment to the University of New Orleans Department of Urban and Regional Planning which produces a majority of the students that eventually become City Planning Directors or Land Use Consultants that write the codes that regulate manufactured housing in the state. 
That effort has made a significant difference in positively influencing students before they become professionals.
The second step was a video project called "Planning for Vibrant Communities." 
"Planning for Vibrant Communities" has resonated very well with the intended audience. The video has softened some of the sensitive issues surrounding land use regulations for manufactured housing and created needed change.  You can see the professionally produced video here.
While the video was made for a Louisiana target audience, many of the land issues, image and other topics addressed apply to other states as well. So insights on subjects such as appreciation of manufactured housing by the experts interviewed for this video would apply to many parts of the United States.
The third effort is a Geographic Information System (GIS) Map which will detail the location of all manufactured homeowners in the state. This work will visually demonstrate to local government the impact that manufactured home ownership and the MH Industry has in their communities.
ManufacturedHomeLivingNews would like to acknowledge MHI's content additions to this article. ##