Literally 99.999% of the U.S. has never been to an event like the 2014 Louisville Manufactured Home Show, for good reasons. These are "trade events," organized solely for the thousands of professionals who come to tour the latest. The models are then bound for retail centers, developments and communities where the public can see them. So when our friends at ManufacturedHomes.com and MHProNews offered to share a video tour of a multi-level Adventure Homes, we jumped at the chance to share this with Manufactured Home Living News followers.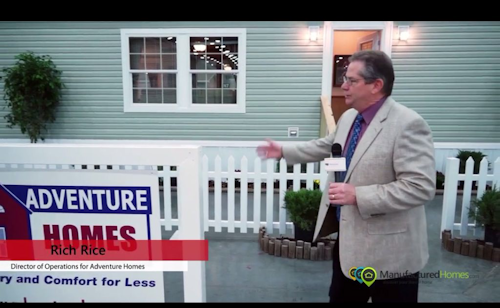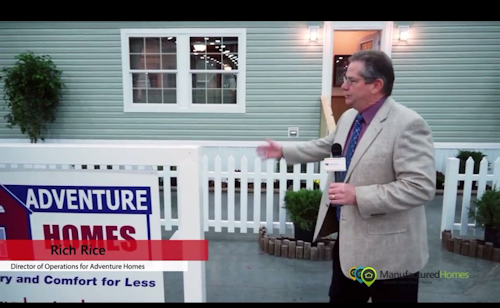 Keep in mind that when Rich Rice – Director of Operations at Adventure Homes – is describing this impressive model home, he's using "industry talk."
A "HUD home" is MH professional shorthand for a HUD Code manufactured home (MH). "HUDs" – built to pre-emptive federal construction and safety standards – tend to cost less than a "MOD," or modular home, which are built to a state's building standards.  The performance of both codes are very similar.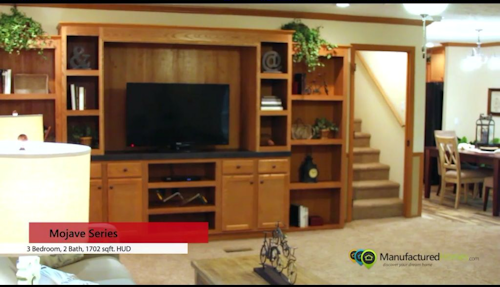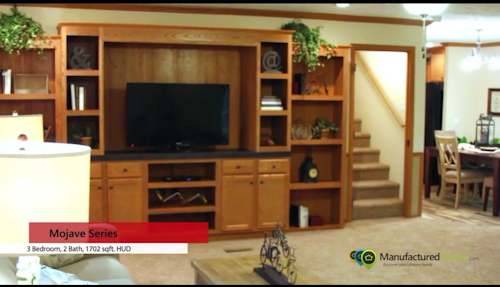 That background explains Rich Rice's enthusiasm for showing a manufactured home with a staircase up to the second level!
A few other facts helps consumers, public officials or others understand the value of this Mojave Series Adventure Homes model.
At a trade show, manufacturers only have days – not months – to install a home and get it ready to show the thousands of professionals who will be looking carefully over dozens of competing models.
So at a trade show, vinyl "skirting" (foundation enclosure) is used to save time during installation. Certainly many cost conscious buyers opt for that too. Yet in fact, a buyer can use bricks, stone, concrete panels or a variety of other options as a foundation enclosure on your permanent home site.
Millions have never seen a manufactured home with full finished drywall. This model features that on the first level, which is like what you'd see in a conventionally constructed home. Factories may offer VOG – vinyl over gypsum – as well as finished drywall. Finished drywall tends to run more; ask your MH sales professional what options are available and that makes the best sense for your needs and budget.
This unfinished 'attic' or upper level could be used for storage, or
could be professionally finished later on site,
once the installation of the home is completed.
Rich Rice explains that the unfinished second level is a good alternative to a basement, and may cost 33-50% less. True!
Homebuyers who may want a second level that is fully finished vs. unfinished can do that too. The investment is typically a lower cost per square door than the finished cost of the ground floor.  Final finish work on an upper level is done on location.
There are some who exaggerate and say that you can do "anything" in a modern MH that you could in a site built house; for example – you'd not likely want a 30 foot tall ceiling – which would be a challenge to do in a factory, but is possible on site.
But as this two level Adventure Homes model proves, you can do most things that home buyers seek in a manufactured home as well or even better in a factory than you could with construction that's only done on site. That's part of the good news for millions who want an option that stretches their housing dollars. We hope you'll enjoy this video tour! ##


By L. A. 'Tony' Kovach.